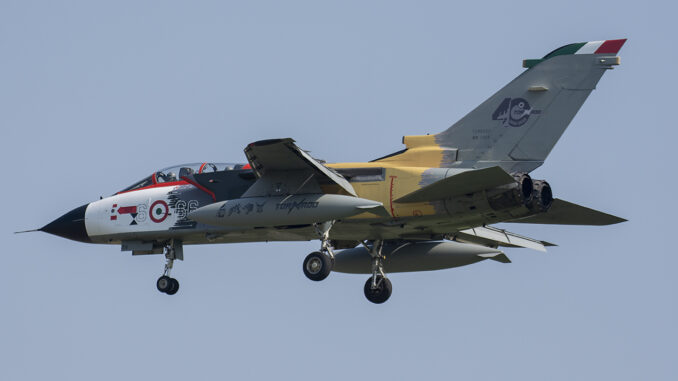 The special colored Tornado, that will make its first public appearance later this week, celebrates four decades of service with the Italian Air Force.
On Sept. 6, 2022, the long-awaited Tornado aircraft sporting the paint scheme that celebrates the 40-year career of the type in the Aeronautica Militare (Italian Air Force), broke cover during the rehearsals for the Tornado40 event, planned for Thursday Sept. 8, at Ghedi Air Base, home of the 6° Stormo (Wing).
The special color, MM7059/6-66 (a Tornado ECR) that has been given a livery that actually sums up all the four liveries the Italian Tornados have worn since the first flight of the prototype: the red and white of the P.05 prototype that flew in 1975; the camouflaged scheme worn by the Italian PA-200s (now A/EA-200) in the 1980s and 1990s; the sand-colored paint scheme of the Tornados that took part in Operation "Locusta" in Kuwait and Iraq in 1990-1991; and the current overall grey scheme.
The tail sports the 40th anniversary badge whereas the fuel tanks have been adorned with the emblems of the four operational units that have operated the Tornado within the Italian Air Force: the 102°, 154°, 155° (still flying the type as part of the 6° Stormo) and the currently disbanded 156° Gruppo (Squadron). Although just for testing purposes, another unit has been assigned and flown the "Tonka" during the years, the 311th Squadron of the Reparto Sperimentale Volo (Italian Air Force Test Wing).
The new livery was created by the world renowned Italian artist Mirco Pecorari of AircraftStudioDesign, who, along with custom designs for cars, boats, collections etc, designed many liveries for aircraft all around the world (including the special tails of the Frecce Tricolori's MB-339A/PAN for the team's 60th Anniversary last year), with the help of our good friend Ugo Crisponi at AviationGraphic.com.
We will provide more details about the new special color after attending the Tornado40 event later this week, so stay tuned!