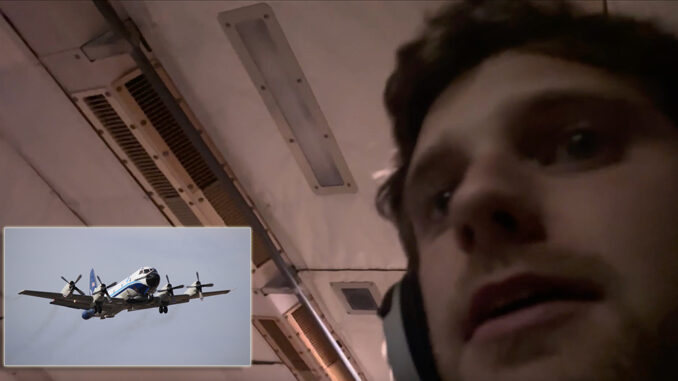 Extreme Turbulence, Equipment Flying, Mattresses Falling and a Very Cool Crew!
A video surfaced yesterday across social media and news outlets of National Oceanic and Atmospheric Administration member Nick Underwood on a weather surveillance flight inside Hurricane Ian over Florida. Underwood was on board the NOAA WP-3D Orion weather reconnaissance aircraft named "Kermit" (N42RF). It didn't take long for the remarkable video to go viral. When you watch it, you'll see why.
NOAA operates two WP-3D Orion weather surveillance and reconnaissance aircraft that actually fly directly into hurricanes to gather important data about the speed, strength, size and meteorological characteristics of a hurricane. The critical data collected on board the WP-3D weather reconnaissance flights is used to predict the storm intensity and track and to study storm dynamics for future forecasting. But as you can see from Underwood's video, it's not exactly first-class cabin style flying.
The video caught the attention of the New York Times, where writer Patricia Mazzei quoted NOAA's Nick Underwood from a phone interview as saying, ""I've never seen so much lightning," and, "We're kind of used to the up-and-down, roller coaster feeling that you get, but in this case, there was just a lot of lateral movement. It was a lot more unnerving."
One of the crew members onboard the WP-3D can be heard to say, "It's alright, it's alright!" as mattresses tumble to the floor inside the aircraft and equipment can be heard shifting inside the aircraft.
As of this hour, 1600 local on Thursday, Sept. 29, 2022, Hurricane Ian has been downgraded to a tropical storm. But news reports say that large parts of hard-hit Fort Myers, Florida are now without electricity, water and sewage systems and that internet connectivity is down in most areas.