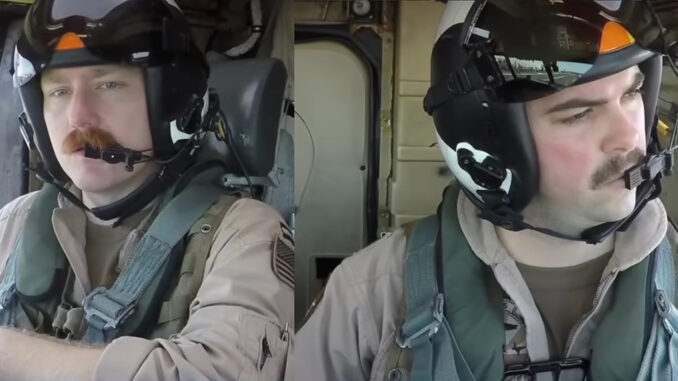 Here's some background about one of the most famous traditions in the military.
While their roots are not completely clear, "deployment mustaches" (i.e. a mustache grown by soldiers during a military deployment) have without any doubt become popular within the fighter pilot community during the Vietnam War, thanks to a legendary pilot: Brigadier General Robin Olds.
A U.S. Air Force ace, with a combined total of 17 victories in World War II and the Vietnam War, Robin Olds, who retired in 1973 and died in 2007 at the age of 84, was also famous for the mustache he grew in "Nam".
According to the prevailing theory, while growing "bulletproof mustache" had already emerged as a common superstition among airmen deployed to the South East Asia, Old's trademark (handlebar mustache was used a "gesture of defiance".  Olds started the mustache in the wake of the success of Operation Bolo, when U.S. F-4C Phantoms disguised as F-105 bombers set a trap for North Vietnam's MiG-21s, and let it grow beyond regulation length because "It became the middle finger I couldn't raise in the PR photographs. The mustache became my silent last word in the verbal battles…with higher headquarters on rules, targets, and fighting the war."
In other words, the mustache, grown in huge violation of Air Force grooming regulations as a form of protest, turned into a tradition that also spread among naval aviators, and still stands today.
According to the current Navy regulations, "Mustaches are authorized but will be kept neatly and closely trimmed. No portion of the mustache will extend below the lip line of the upper lip. It will not go beyond a horizontal line extending across the corners of the mouth and no more than 1/4 inch beyond a vertical line drawn from the corner of the mouth."
Now, take a look at the video below. It was recorded by our friend Rob Roy several years back when he was flying the C-2 Greyhound while on deployment with the USS Harry S. Truman Strike Group. Rob is a former Naval Aviator who flew the Greyhound with the "Rawhides" of VRC-40. His cool videos filmed during his career flying the type provide an unprecedented look at the C-2's blue water operations inside and outside the cockpit (check these ones we have already commented, showing Rob not even blinking on approach to the carrier or performing a bolter and a waveoff).
This one is a bit different though, as the real stars are his co-pilot giant mustaches!

"I had fun making this video and really put some emphasis on the mustaches my copilot and I had, mainly because in my past videos, I got thousands of comments about the "aviation power" my mustache possessed and questions as to why Naval Aviators wear them so frequently," Rob told us in a message.
"The simple answer is, there are two circumstances when Navy Pilots really try and grow mustaches (unless they are just an overall Alpha Male and rock one 24/7/365). The first is for CQ (carrier qualifications) and is the first time we ever land on "the boat." It's mostly just a decades-old tradition that has been passed down and is a fun way to let others in your squadron know you are in the final stages of flight school and will soon be landing on an aircraft carrier for the first time."
"The other is during deployments. And when I say deployment, I'm referring to 6-9 months away from home, being mostly confined to an aircraft carrier floating in the middle of the ocean (except for us C-2 pilots – but that's for another time). Basically, most of the male tailhookers grow mustaches as a way to have a friendly competition and build camaraderie among the Air Wing pilots. When you're on a ship for that long, you get pretty bored, pretty quick and growing out a mustache is one of the few things you can do to mix up your daily routine. Some even say, you become a better aviator and are bestowed with "God-like" powers when you grow a mustache, so it behooves you do just that."
"The ironic part is, I only grew mine out for about two months and couldn't stand to keep it on after that, but I just happened to record several videos during that time, which I later uploaded to YouTube. My copilot for this particular catapult shot had been growing his mustache out for several months before deployment and was easily recognized all over the carrier. And in my opinion, he had the best mustache I had ever seen among other Naval Aviators and he was a damn good pilot to boot."
"But, as you can imagine, most of the mustaches are quickly shaven off as soon as we get back home from deployment and our wives get a good look at them…"
The comment section of the Youtube video (that is up to more than 1M views) is pure gold!
A big "Thank You!" to Rob for sharing his experience and video with us. Make sure you visit his Youtube channel. His podcast called "Adventure Bound" is available on Apple Podcasts and Spotify.