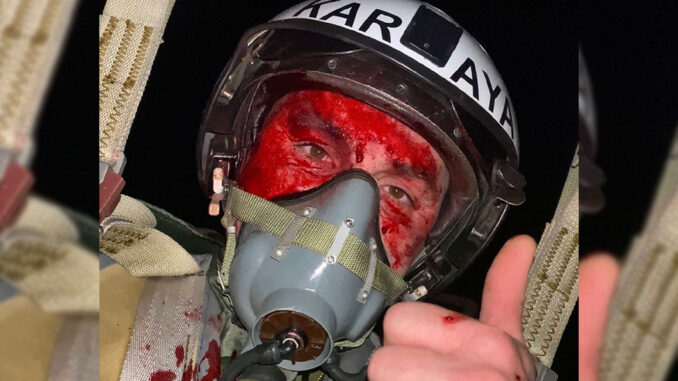 Maj. Vadym Voroshylov snapped a selfie after a night ejection from his MiG-29 Fulcrum.
Known by his callsign Karaya, Maj. Vadym Voroshylov already was the most famous MiG-29 Fulcrum of the Ukrainian Air Force. On his Instagram account, followed by 130K users, he regularly posts photographs as well as footage shot with GoPro-cameras, that provide a pretty unique view of the air war fought by the Ukrainian fighter pilots against the Russian Aerospace Forces assets over Ukraine.
Although some of his images had already got a lot of attention, Karaya's last post is something never seen before and as such, went immediately viral: he managed to snap a selfie of his blood-covered face while descending under his parachute canopy after ejecting over west-central Ukraine.
The incident occurred around 21.00 LT on Oct. 12, 2022, but it was made public only a couple of days ago, on Dec. 6, the Day of the Armed Forces of Ukraine, when Voroshylov published the photo on his Instagram feed and received the title of Hero of Ukraine with the Order of the Golden Star.
As specified in the document published by the President of Ukraine, the state award was awarded to Voroshilov "for personal courage and heroism shown in protecting the state sovereignty and territorial integrity of Ukraine, as well as selfless service to the Ukrainian people".
Major Vadym Voroshylov, call sign Karaya, shot down 2 missiles and 5 drones during a ruscist attack on Vinnytsia. A photo of his bloodied face went viral. On December 5, President @ZelenskyyUa signed a decree awarding him the title of Hero of Ukraine, Order of the Gold Star. pic.twitter.com/b0iH9QXw4N

— Defense of Ukraine (@DefenceU) December 8, 2022
Karaya had earned the reputation of drone killer after downing five Iranian-made Shahed suicide drones during a massive wave of attacks on Ukrainian cities and power plants in October.
Shahed killer.
This is the 🇺🇦 pilot who is defending the skies over Vinnytsia. He has already shot down 5 "shaheds" and 2 missiles.
The hero's name is Vadym. pic.twitter.com/iFZGxZsQqf

— Defense of Ukraine (@DefenceU) October 15, 2022
However, the wreckage of one of the destroyed UAVs caught the MiG-29 cockpit. Debris cut into the pilot's cheek and neck. According to the investigation report, Karaya directed the MiG-29 fighter into the field to avoid large-scale destruction and casualties among the civilian population and then managed to reach the ejection handle. The rest is told by his now famous selfie.