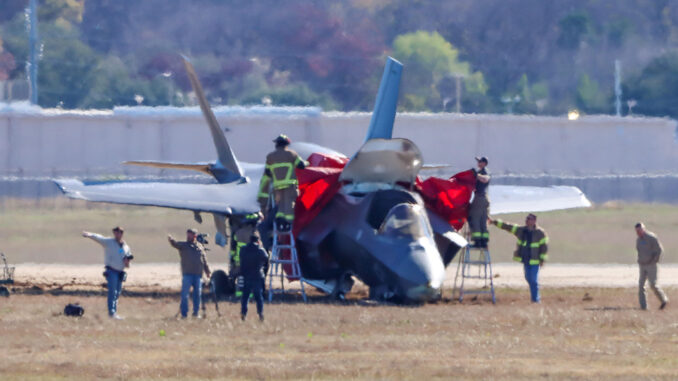 Some Israeli and U.S. F-35s among the aircraft affected by a technical directive issued by the F-35 Joint Program Office.
Some F-35s, including at least 11 F-35s of the Israeli Air Force, and an unspecified number of U.S. F-35s have been grounded as a consequence of the investigation into the incident that occurred on the shared runway at Naval Air Station Joint Reserve Base Fort Worth, Texas, where a test pilot successfully ejected from a Lockheed Martin-owned F-35B on Dec. 15, 2022.
A video shared on social media, showed the F-35B descending vertically from a hovering position, bouncing back into the air after a first touchdown and dropping again, nose down. The second impact with the runway causes a collapse of the nose gear. The right wing then touches the ground and the aircraft starts to spin out of control, until the pilot ejects.
While the cause of the crash has not been disclosed, the F-35 JPO issued a directive to ground a "small number" of aircraft.
We reached out to the JPO Public Affair Office to ask for more details but all we got in response to our email is the same statement released on Tuesday Dec. 27:
The F-35 Joint Program Office has issued a Time Compliance Technical Directive (TCTD) to recommend restrictions on a small number of aircraft, which have been evaluated to be of higher risk, from flight operations and until procedures can be developed for their return to flight. The affected aircraft have been identified, and the JPO will work with the military services and international partners to ensure understanding of the risks identified in the TCTD. This is a preliminary assessment of the risk, and actions are in work that we believe will lead to a refinement of this assessment. The safety of flight crews is the JPO's primary concern.
No additional details about the U.S. military service and international partners with aircraft affected by the TCTD were provided. However, the Israeli Air Force said on Dec. 25 that 11 of their aircraft were grounded pending further investigation:
כחלק מלקחי התרסקות מטוס קרב אמריקאי מסוג F35 מדגם B, לפני כשבועיים בטקסס, החליט חיל האויר בהמשך להמלצת המינהלת האמריקאית לייצור מטוסים אלו (JPO) על קרקוע של 11 מטוסים ממערך ה׳אדיר׳.

— Israeli Air Force (@IAFsite) December 25, 2022
Interestingly, the Israeli Air Force doesn't operate the same F-35B STOVL variant of the Lightning II aircraft involved in the runway incident at Fort Worth: it flies the F-35I Adir, a domestic variant of the F-35A CTOL (Conventional Take Off and Landing). On the other side, other international operators equipped with the F-35B don't seem to be affected by the grounding: for instance, neither the Italian Air Force F-35A/B nor the Italian Navy F-35B fleets should be affected by the grounding according to the sources we talked to.
Still, the extent of the grounding among the F-35A/B/C operators is unclear, considered that the JPO PAO has not disclosed more details about the impact on the global fleets. 
"A source familiar with the program, who spoke on the condition of anonymity because they were not authorized to discuss details of the incident, said the JPO's initial assessment found that a propulsion system issue led to the Dec. 15 crash of the hovering F-35B, which has now led to broader groundings in the fleet" Defense News reported. "The source said that, in guidance to the services, the JPO said a failure of a tube used to transfer high-pressure fuel in the fighter's F135 engine prompted the office to update its safety risk assessments. The JPO also told the services that jets with fewer than 40 hours of flying are affected, this source said."