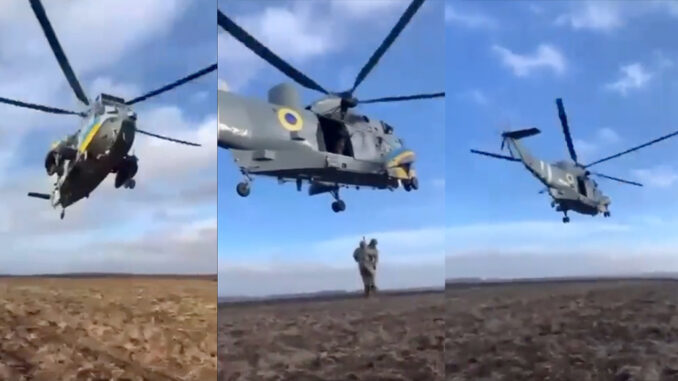 First British Sea King helicopter has been delivered and received Ukrainian markings.
The Ukrainian Navy has received the first WS-61 Sea King helicopter supplied by the UK. The video, providing a first look at the former Royal Navy helicopter sporting Ukrainian markings was posted by the Ukrainian Defense Minister Oleksii Reznikov on Jan. 21, 2023, in a tweet to thank British Defence Secretary Ben Wallace for the donation.
Sea King from the UK has arrived in its new kingdom near the Black Sea in Ukraine!
It is a strong reinforcement for the Ukrainian Navy. Our cooperation will continue to increase.
Thank you to @BWallaceMP
Together, we will secure the seas and lands across all of Europe! pic.twitter.com/Qf4mF2vp8L

— Oleksii Reznikov (@oleksiireznikov) January 21, 2023
On Nov. 23, 2022, BBC reported, citing U.K. Defense Secretary Ben Wallace, that the UK would give three Sea King helicopters. Three days later, on Nov. 26, 2022, the UK Defense Ministry said the UK would train 10 aircrews to use the helicopters to enhance the Ukrainian SAR (Search And Rescue) capabilities.
The Westland Sea King is a British license-built version of the American Sikorsky S-61 helicopter. Both the Royal Air Force and the Royal Navy operated the helicopter. The RN's Sea King fleet was based at RNAS Culdrose in Cornwall, and was operated by 849, 824 and 814 Naval Air Squadrons. The Sea Kings also operated from Royal Navy warships.
The Sea King entered service in 1969 and was used in various operations, including the Falklands War, the Gulf War, the Balkans conflict as well as Afghanistan. Its primary role was anti-submarine warfare (ASW) missions and SAR although several variants were developed for different tasks, such as ship-based AEW (Airborne Early Warning) and troop transportation.
The Sea King HC.4 / Westland Commando was a variant specifically designed for the Royal Navy's Commando Helicopter Force (CHF). The Sea King HC.4 was a modified version of the ASW helicopter, with the major difference being the addition of a winch and hoist for the insertion and extraction of troops and equipment. The Commando variant was also equipped with additional armor and self-defense systems to protect against ground fire.
The last remaining Sea King helicopter in Royal Navy service was retired on Sept. 26, 2018.