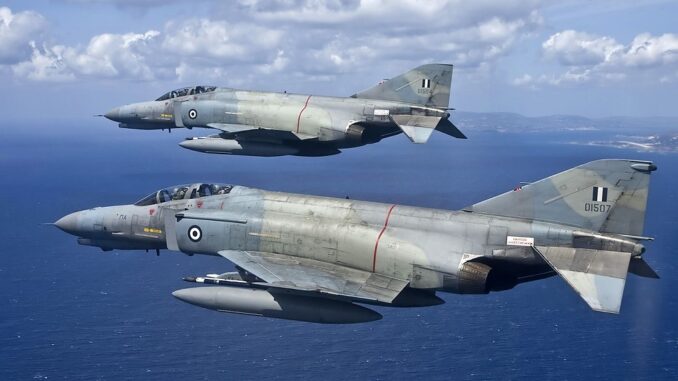 The Weapon Systems Officer was found dead, the pilot is still missing.
A F-4E AUP Phantom II of the Hellenic Air Force crashed  at 10:30 am local time on January 30, 2023, 25 nautical miles south of Andravida Air Base. The crash happened while the aircraft was performing a low altitude training flight over the Ionian Sea at 300 ft with another F-4E, who first raised the alarm and started loitering over the area as rescue forces were alerted.
Two AB-205 helicopters of the Hellenic Air Force and a S-70 helicopter of the Hellenic Navy were immediately launched for the Search And Rescue effort, while a C-130 was put on alert and ready to takeoff. The Hellenic Coast Guard rushed to the area with its naval vessels. The crash site was identified, with debris found floating by the assets on scene.
At the time of writing, the Weapon Systems Officer, First Lieutenant Marios Michail Touroutsikas, 29, was found dead on scene, while the search is still ongoing for the pilot, Captain Efstathios Tsitlakides, 31. Local media are reporting that the two officers were not able to eject, but this has not been confirmed.
This morning, a Hellenic Air Force F-4E Phantom II crashed in the Ionian Sea during a low-level training flight. WSO First Lieutenant Marios Michail Touroutsikas, 29, was killed in the crash, SAR operation for missing Captain Efstathios Tsitlakides, 31, still ongoing. pic.twitter.com/szGNpPeYZI

— e-Αmyna (@e_amyna) January 30, 2023
The Phantom II was assigned to the 338th Squadron (Mira) "Ares" of the 117th Fighter Wing at Andravida air base. The aircraft has been identified as the F-4E Phantom II with serial number 01507 and construction number 4465 that was first delivered in May 1974. The aircraft went on to become the first to be upgraded during the Peace Icarus 2000 modernization program and delivered back to the HAF in December 2002.
Η Πολεμική Αεροπορία παρέλαβε το μοιραίο F-4E Phantom II (s/n 01507 c/n 4465) τον Μάιο του 1974. Ήταν το πρώτο A/Φ παραγωγής του προγράμματος εκσυγχρονισμού Peace Icarus 2000 που παραδόθηκε από την ΕΑΒ στις 18 Δεκεμβρίου 2002. Πλέον απομένουν 33 F-4E στην 338 Μοίρα. pic.twitter.com/Am8xyQkjyh

— e-Αmyna (@e_amyna) January 31, 2023