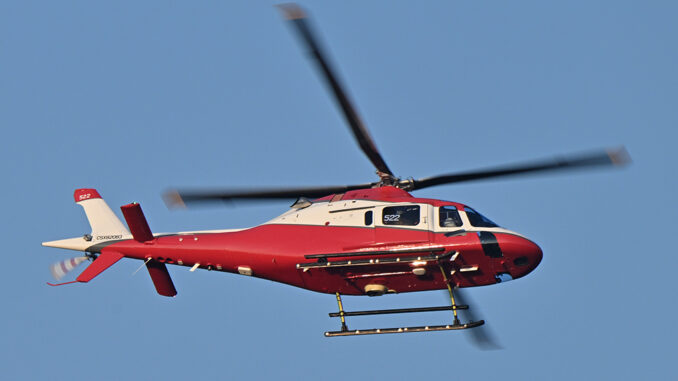 Here's our first look at the AW119T destined to the TLFC (Turkish Land Forces Command).
The photo in this article was taken by our contributor Oscar Bernardi recently. It shows a Leonardo AW119T Koala, during a test flight from the company's plant in Vergiate. The helicopter, s/n 15522 with Italian experimental registration CSX82083 is the first AW119T sporting the colors of the TLFC (Turkish Land Forces Command). At the moment, two AW119T have been produced for Turkey: along with the s/n 15522, the 15521 (in primer paint) is being used for training of the future IPs (Instructor Pilots).
The TLFC has selected the Leonardo AW119T helicopter for its next generation training needs. The contract for the purchase of 15 of these helicopters was signed last summer, as Defense News was first to report. However, despite the media reports emerged so far, the T suffix does not identify the Turkish but just the Training variant of the helicopter: AW119T (where T stands for Training) is the designation Leonardo will use in the market of the training helicopters.
In other words, currently, there are three versions of the single-engine AW119 helicopter: AW119Kx designed for civil use, AW119M for military use and AW119T for training. Both types are equipped with state-of-the-art digital avionics suite that enables both VFR and IFR operations, showing critical flight information on two large multi-function displays, enhancing situational awareness and reducing pilot workload, such as the Synthetic Vision System (SVS), Highway In The Sky (HITS) depiction, moving map and embedded Helicopter Terrain Avoidance Warning System (HTAWS).
The AW119M can be used for a wide range of military missions, including troop transport, training, external lift, casualty evacuation, Search and Rescue (SAR), Command and Control (C2), and armed escort. The AW119M is also highly capable in the maritime environment.
The AW119 is in high demand in the military training helicopter market: a U.S. Navy-specific variant of the commercial AW119 "Koala",  designated TH-73 Thrasher and first delivered in August 2021 to replace the 40-year-old TH-57 Sea Ranger, has started training the first class of twelve student naval aviators last year.