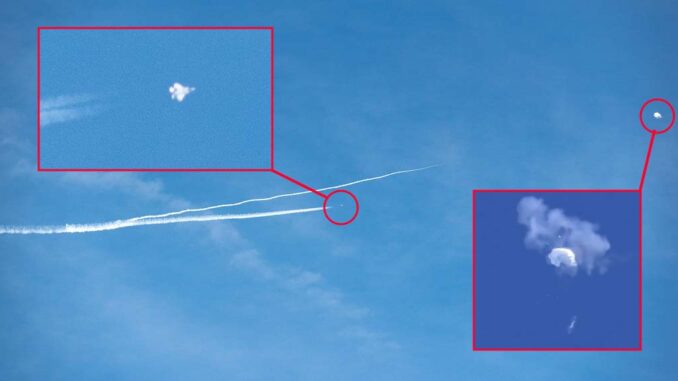 The Raptors were put on standby and were ordered to fire at the balloon as soon as it was on the Atlantic Ocean off the coast of South Carolina.
After a couple of tense days full of controversy and debate, the U.S. Air Force took care of the suspected Chinese high-altitude surveillance balloon which was spotted few days ago over northwestern United States. The Pentagon tracked the balloon as it made its way to the East Coast and, once it was over the waters of the Atlantic Ocean, gave the green light to shoot it down.
On February 4, 2023, at 2:39 p.m. an F-22 Raptor, belonging to the 1st Fighter Wing from Langley Air Force Base, shot down the high-altitude surveillance balloon with an AIM-9X infrared-guided air-to-air missile off the coast of South Carolina and within U.S. territorial airspace. The Raptor was flying at 58,000 feet, while the balloon was between 60 and 65,000 feet.
IMPRESSIVE video snagged from Real Photoholic on Instagram, balloon go poof. pic.twitter.com/u0EjYyfdos

— doge (@IntelDoge) February 4, 2023
Photos show the Chinese Balloon being shot down by a F-22 Raptor from Myrtle Beach, SC!
📸Me pic.twitter.com/AWSmILlRzg

— Jake (@astroqv) February 4, 2023
Looks like here we see the contrail of the missile and the F-22 that fired the shot at the #ChinaSpyBalloon 😮pic.twitter.com/sorACZpaRI

— Thenewarea51 (@thenewarea51) February 4, 2023
During a briefing with reporters, officials said this was the first available opportunity to successfully bring down this surveillance balloon in a way that would not pose a threat to the safety of Americans, which the military assessed to be the case when it was approximately six nautical miles off the coast. F-15s from Barnes Air National Guard Base in Massachusetts and tankers from multiple locations also supported the operation.
Audio from FRANK01 (Langley AFB F-22) calling, "SPASH ONE"confirming to "HUNTRESS" (Eastern Air Defense Sector "EADS") that the #ChineseSpyBallon is completely destroyed off the coast of South Carolina today 😎
*Big thanks to 📷Brett728 for sharing pics and 🕵️‍♀️ for the audio! pic.twitter.com/8tfZeyeNAy

— Thenewarea51 (@thenewarea51) February 5, 2023
Before the operation started, the Federal Aviation Administration activated a temporary restricted airspace up to 60,000 ft, while also pausing departures and arrivals at Wilmington, Myrtle Beach International and Charleston International airports. The F-22s flew with the callsigns "FRANK01" and "FRANK02" as homage to U.S. Army Air Service Medal of Honor recipient First Lieutenant Frank Luke Jr, also known as the "Arizona Balloon Buster" after destroying 14 German balloons and four aircraft during World War One.
Adios balloon 🎈 1825 Zulu multiple tankers orbiting off the coast of Myrtle Beach South Carolina a unusually large temporary restricted airspace has been activated up to 60,000 feet. pic.twitter.com/PU8D4A8EfC

— Thenewarea51 (@thenewarea51) February 4, 2023
According to the official statement released afterwards, "President Joe Biden ordered the action on Wednesday, but it was delayed until the balloon was over water off the coast of South Carolina to ensure no Americans on the ground were harmed." This statement is somewhat interesting, as it seems the President ordered the military to intervene even before the news about the balloon spotted in Montana went viral, and possibly as soon as it entered the US airspace.
The press release, in fact, acknowledged that the balloon was detected on January 28 when it entered US airspace near the Aleutian Islands, then traversed Alaska, Canada and re-entered US airspace over Idaho. When asked about how long they had been tracking the balloon on February 2, officials said only "a couple of days".
"President Biden asked the military to present options and on Wednesday President Biden gave his authorization to take down the Chinese surveillance balloon as soon as the mission could be accomplished without undue risk to us civilians under the balloon's path," said a senior defense official speaking on background. "Military commanders determined that there was undue risk of debris causing harm to civilians while the balloon was overland."
Chinese high-altitude surveillance #balloon:

USAF F-22s FRANK01 & 02 launched from Langley AFB, VA joining up with KC-135R #AE04B3 57-1473 GASMN02 for aerial refueling. pic.twitter.com/GzeIrMlVe0

— Aircraft Spots (@AircraftSpots) February 4, 2023
Chinese high-altitude surveillance #balloon.

USAF KC-135R #AE04B3 57-1473 GASMN02 scrambled from Birmingham, AL.
USAF KC-135R #AE0363 60-0341 ABATE98 scrambled from Meridian, MS.

USAF F-15s EAGLE01 & 02 scrambled from Barnes ANGB, MA joined up with GASMN02 & ABATE98. pic.twitter.com/kYV1noi0yo

— Aircraft Spots (@AircraftSpots) February 4, 2023
Chinese high-altitude surveillance #balloon:

US Navy P-8A #AE681A TIGER09 from Jacksonville, FL will be operating VFR due regard for the next 8 hours within the task area. pic.twitter.com/LYf6XA6SWC

— Aircraft Spots (@AircraftSpots) February 4, 2023
As we reported few days ago, the balloon carried a quite large payload, with photos showing solar arrays distributed on two thirds of the structure suspended below the balloon, while in the remaining center third there are some indistinguishable objects. While officials did not want to go into the exact dimensions of the object, only saying it was "large enough to cause damage", medias reported it might have been the size of three buses.
Most recent image of the Chinese balloon obtained in Candler, NC

Author: Blake Cloningerhttps://t.co/dpWkaBYVMp pic.twitter.com/EEj50pO3ga

— StratoCat (@stratoballoon) February 4, 2023
Officials said they took steps to protect against the balloon's collection of sensitive information while it was flying over the US, mitigating its intelligence value to the Chinese, even if initially they said they "assess that this balloon has limited additive value from an intelligence collection perspective". At the same time, the military says that valuable info was obtained by studying and scrutinizing the balloon.
"Shooting the balloon down addressed the surveillance threat posed to military installations and further neutralized any intelligence value it could have produced, preventing it from returning to the PRC," said a senior defense official. "In addition, shooting the balloon down could enable the U.S. to recover sensitive PRC equipment."
Currently multiple U.S. Navy vessels and Coast Guard vessels established a security perimeter. The majority of the debris from the balloon is in in relatively shallow water, at a depth of 47 feet. Some parts have already been recovered and the operation is expected to last few days. A salvage ship is also enroute to assist if needed, as well as Navy divers.
Before it was shot down, Chinese officials admitted that the balloon was theirs, saying it was a runaway weather balloon that was blown off course. US officials refused this statement: "This surveillance balloon purposefully traversed the United States and Canada," said a senior defense official. "Its route over the United States, near many potential sensitive sites, contradicts the PRC government's explanation that it was a weather balloon."