The new Directional Infrared Countermeasures system has recently become operational with the U.S. Army.
After being installed on more than 100 U.S. Army helicopters, the Northrop Grumman Common Infrared Countermeasures (CIRCM) system has reached the Initial Operational Capability (IOC) demonstrating the ability to field, employ and maintain the new Directional Infrared Countermeasures (DIRCM) in significant quantities on the service's rotary wing assets. The requirements for IOC have been reached on the UH-60M, HH-60M, CH-47F and AH-64Es, paving the way for the accelerated fielding of CIRCM systems on more than 1,500 Army aircraft.
"The IOC for CIRCM reflects the tremendous partnership between the acquisition community, R&D and testing organizations, Soldiers from the Aviation Branch as well as our industry partners," said Lt. Col. Adrian Watts, Product Manager for Infrared Countermeasures. "The system is a key enabler for Multi-Domain Operations in the Army 2030 Force and this marks an important step in Army modernization by fielding a critical capability that protects U.S. Army aircrews and aircraft against MANPAD threats in a contested environment."
The IOC included both the installation and training of the systems on aircraft across multiple Army installations. These systems have had the benefit of lessons learned during the past decade in conjunction with the Aviation Community, said the Army. CIRCM's predecessor, the Advanced Threat Infrared Countermeasure (ATIRCM), provided protection for the Chinook for several years prior to fielding the new, lighter, more capable system, and delivered invaluable insight into how to best employ the technology.
"CIRCM's ability to track and rapidly defeat infrared-guided threats has been validated over thousands of hours of rigorous testing in laboratory, flight and live-fire test environments," said Bob Gough, vice president, navigation, targeting and survivability, Northrop Grumman. "Achieving IOC was made possible by the entire team's dedication and our strong partnership with the Army. Together we'll provide U.S. Army aircrews with CIRCM's unmatched threat protection."
Northrop Grumman has delivered over 250 CIRCM systems to the Army, including the 100 already installed on the service's helicopters which have accumulated more than 11,000 flight hours since the first field installation in December 2021. CIRCM was specifically designed to protect rotary wing and medium fixed wing aircraft from shoulder-fired and vehicle-launched infrared-guided anti-aircraft missiles, ensuring aircrew survivability.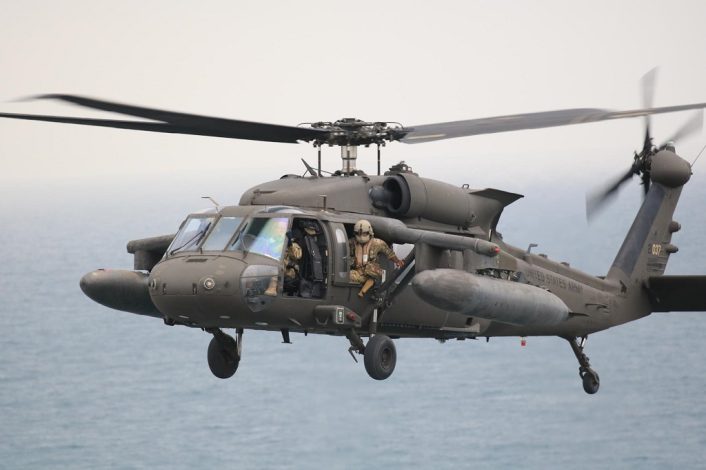 As the next generation of laser-based infrared countermeasure systems, CIRCM's modular, open systems approach works with existing hardware, simplifies upgrades, and keeps lifecycle costs low to provide flexibility and a solid platform to build upon in the future. Northrop Grumman says it is continuing to develop and improve CIRCM to overmatch current and future threats, with one upgrade currently in test being an enhanced laser Line Replaceable Unit which will increase capability against near-peer threats.
In fact, while it was initially born as a 4th gen DIRCM system, CIRCM later evolved in a 5th gen system during its development to defeat both current and emerging missile threats. "The system has made many improvements since the initial design and has transformed into a very capable system for the US Army," said to us Dennis Neel, Director of Survivability Development Programs, Northrop Grumman. "The threat never stands still so the system will continue to improve and incorporate technology improvements as available and as needed."
As Army Aviation looks to evolve with the Future Vertical Lift program, including the Future Attack Reconnaissance Aircraft (FARA) and Future Long Range Assault Aircraft (FLRAA), the CIRCM system is well positioned to assist in future readiness with its reduced weight and increased performance over legacy systems. According to the Army's press release, CIRCM weighs less than 120lbs when installed on Blackhawk and Apache helicopters and less than 155lbs on Chinooks, which is a 62% weight reduction from the ATIRCM system.
The Army also said CIRCM installs on the current fleet will help inform FARA and FLRAA requirements due to its selection as the system to perform this capability for Future Vertical Lift platforms. In fact, CIRCM has been proposed for the installation on the Future Vertical Lift helicopters, together with the AN/APR-39E(V)2 digital Radar Warning Receiver/Electronic Warfare Management System, the next generation of the APR-39 RWR that has been in service for decades with the Army.
What is CIRCM?
CIRCM is a lightweight dual-jammer Directional Infrared Counter Measures (DIRCM) system designed specifically to protect rotary wing and medium fixed wing aircraft from infrared-guided missiles. The dual-jammer configuration was chosen as it provides spherical protection and the highest level of aircraft survivability, compared to a single head DIRCM. Northrop Grumman says that the system is built on open architecture to work with existing hardware and uses a compact pointer/tracker, a lightweight Commercial Off-The-Shelf (COTS) processor and advanced Quantum Cascade Laser (QCL) technology for greater reliability and scalability.
CIRCM also meets demanding size, weight and power (SWaP) requirements, to offer industry leading capability for a variety of SWaP restrictive platforms for the US and its allies. SWaP requirements are becoming more important as new aircraft carry much more electronic systems, which together are heavier and more power-hungry than in the past. Also, in the past some DIRCM systems failed to be installed in mass on helicopters because of their excessive weight.
"The helicopter environment provides a very challenging environment, with SWaP posing one of the greatest challenges," said Neel. "CIRCM was designed with the unique Helicopter SWaP in mind. Fitting all the capability of CIRCM into a small package provides the US Army enhanced capability without compromising their mission."
As described by the Army, CIRCM is part of a suite of infrared countermeasures that also includes a Missile Warning System (MWS) and an Improved CounterMeasure Dispenser (ICMD) for flares and chaff. The Army's current MWS is the Common Missile Warning System (CMWS) with the third-generation electronic control unit (ECU), which is responsible for detecting and declaring on an IR threat. CIRCM, however, does not require a specific MWS system and is able to work with many different sensors, according to the operational requirements.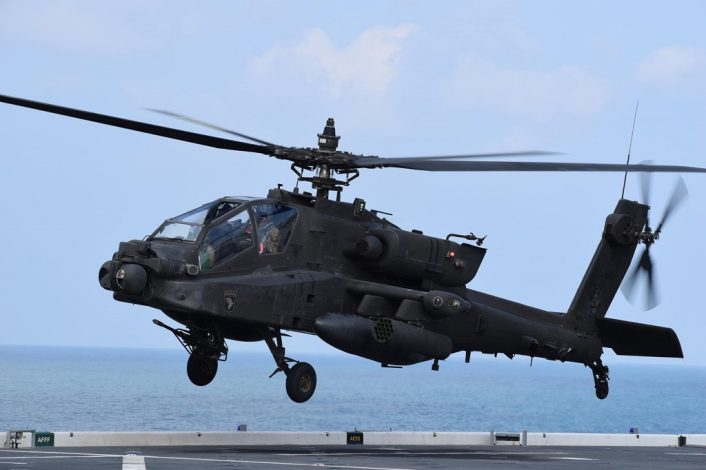 This suite should be the Limited Interim Missile Warning System (LIMWS), mentioned in the FY22 Director Operational Test and Evaluation (DOT&E) report. LIMWS has been already installed on AH-64E Apache Guardian helicopters in special sponsons on the tip of the stub wings and forward deployed in the Middle East at least since October 2022. While so far LIMWS was only seen on the AH-64E, the report mentions that it is being used also for the same mission sets of the UH-60 and CH-47 but is not known in which form it has been installed on these helicopters. Anyway, UH-60M equipped with CIRCM were photographed together with LIMWS-equipped Apaches in Middle East.
The DOT&E report says that the LIMWS Quick Reaction Capability (QRC) testing demonstrated sufficient system effectiveness and reliability to support operations. LIMWS is a form-fit replacement for the CMWS, composed of multiple imaging two-color IR sensors, a system processor, and a removable data module. The new system operates in the IR spectrum, providing performance advantages over the older UV missile warning system it replaces.
A brief description of the CIRCM's functioning can be found in the (unclassified) FY21 Army Aircraft Procurement Budget: "CIRCM receives an angular bearing handoff from the MWS, employs a pointing and tracking system which acquires the handed-over threat and tracks the incoming missile during and after motor burnout. CIRCM jams the missile by using modulated laser energy in the missile seeker band, thus degrading the tracking capability of the missile and causing it to miss the aircraft."
The IOT&E 2020 report provided some more details, mentioning that simultaneously with the handoff, the MWS processor continues to evaluate the possible threat to determine if it is a real threat or a false alarm. If the MWS declares the detection to be an actual threat, it notifies the aircrew through audio alerts and a visual display on the aircraft Multi-Function Display in the cockpit, while also releasing flares as a countermeasure.
Some history background
Northrop Grumman Corporation announced in 2009 the formation of a strategic alliance with SELEX Galileo, which is now part of Leonardo, to compete for the U.S. Army's Common Infrared Countermeasures (CIRCM) program. For this joint project SELEX Galileo provided its Economic Compact Lightweight Pointer-Tracker System (ECLIPSE), but it is unknown if this component was replaced as the system evolved to a 5th generation DIRCM.
Northrop Grumman and Leonardo have a long-standing cooperation in this sector, dating back to the 90s with the AN/AAQ-24 Nemesis DIRCM. "Northrop Grumman is proud to have our partners Leonardo DRS working with us on CIRCM," said Neel. "We do have a long history with Leonardo that is benefiting both companies. Because of this partnership, we are able to bring the best solution based off our individual and our shared knowledge."
Northrop Grumman itself has a long history in developing and manufacturing IR countermeasures systems, with over 50 years of experience. Obviously, the lessons learned from previous products, such as the AN/AAQ-24(V)N Large Aircraft Infrared Countermeasures (LAIRCM) already employed by the US Army, also helped the development of CIRCM.
In 2011 Northrop Grumman announced that Daylight Solutions joined the project, providing its Solaris Quantum Cascade Laser (QCL)-based system into the Northrop Grumman offering for the CIRCM program. A year later, the U.S. Army has awarded a contract for the CIRCM technical demonstration program to the Northrop Grumman, SELEX Galileo and Daylight Solutions team, under which they were to deliver eight sets of test hardware in addition to three full ship sets.
The first set was delivered in 2013 and joined the Army's 21-month research, development, test and evaluation program that also included reliability testing, missile jamming tests and flight tests on an Army platform. Few months later, CIRCM completed the preliminary design review, surpassing the program's weight and electrical power requirements, and the safety of flight testing, which approved the system for operation under stressing flight conditions.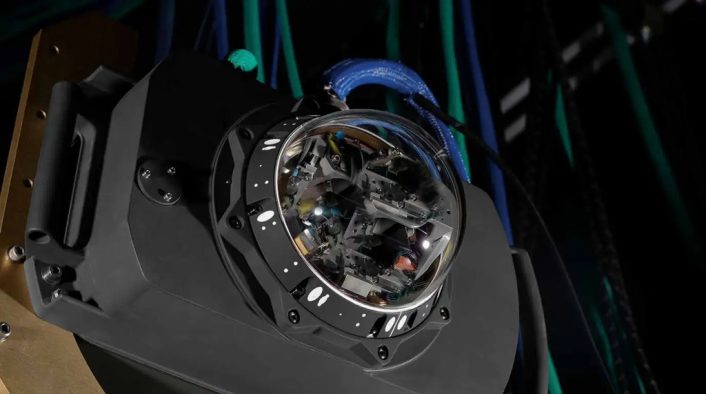 In 2014, CIRCM completed a six-week test campaign on a UH-60M Black Hawk helicopter at Redstone Arsenal in Huntsville, Alabama, demonstrating its capabilities while against captive missile seekers and while subjected to rigorous conditions representative of operational environments. A year later, having successfully completed the entire government-designed test plan, Northrop Grumman was awarded a engineering and manufacturing development and low-rate initial production contract for CIRCM.
The first CIRCM system under this contract was delivered in 2016, with Northrop Grumman and the Army continuing the development until Milestone C was achieved in 2018, marking the end of the development and testing phase and enabling the beginning of production and deployment. A year later, CIRCM was tested again on UH-60M Black Hawk helicopters based out of Fort Hood, Texas, during events designed to test the system under an operationally realistic combat environment with realistic threats provided by a Multi-Spectral Sea and Land Target Simulator (MSALTS).
A month later, Northrop Grumman has received a new contract award for CIRCM, which also entered the first round of Initial Operational Test and Evaluation (IOT&E). In 2021, CIRCM successfully completed the second phase of IOT&E, rapidly defeating all threats during a multitude of scenarios, and was declared operationally suitable, effective and ready for full-rate production.
Following the completion of the IOT&E, the Army awarded Northrop Grumman a five-year, indefinite delivery/ indefinite quantity (IDIQ) contract for full-rate production of the CIRCM system. In November 2022, CIRCM finally reached the IOC, after installation on more than 100 helicopters.
The Aviationist would like to thank Northrop Grumman's spokesperson Sam Waltz and the company's team of experts for the help provided in the preparation of this article, while making sure also that it would not compromise sensitive information that would preclude the safety of the aircraft and crews employing this advanced technology.