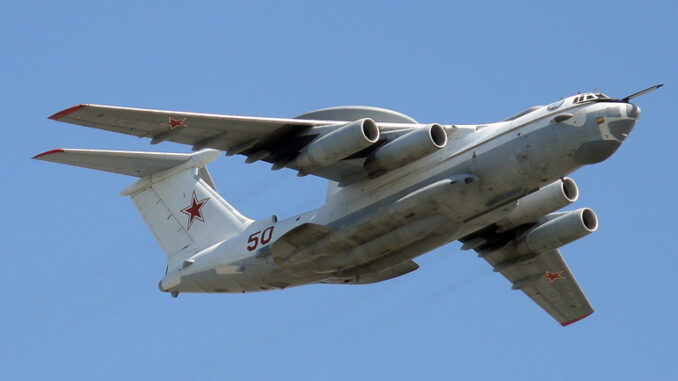 Belarus President acknowledged some damage was caused by the drone attack carried out at the end of February.
A "terrorist" and more than 20 accomplices working with Ukrainian and U.S. intelligence services are detained in Belarus over attempted sabotage at a Russian airborne early warning & control aircraft at Machulishchy Airbase, Belarus, President Alexander Lukashenko was cited as saying on Mar. 7, 2023. "The Security Service of Ukraine, the leadership of the CIA, behind closed doors, are carrying out an operation against the Republic of Belarus. A terrorist was trained," the Belta news agency quoted Lukashenko as saying.
On Feb. 26, 2023, the Belarusian partisan group, BYPOL, said a Russian Beriev A-50U Mainstay had been severely damaged in a drone attack at the base near Minsk, a claim disputed by Russia and Belarus, that a few days later released footage of the radar jet operating from the Belarusian airport. High-rez satellite images released by Maxar showed the A-50U pretty much intact on the apron of the Belarusian air base. As explained, while they seemed to rule out heavy damage was inflicted to the aircraft, the imagery did not prove the valuable "flying radar" hadn't be damaged in some way by the attack.
In the following days, the Belarusian anti-government activists released two clips supposedly showing the attack carried out with light drones: the first showed the small quadcopter as it carried out a sort of reconnaissance flight, landing on the radar dome of the A-50U and then leave. The second clip, showed the quadcopter drone launching from just outside the perimeter fence of the airport, getting close to the radar jet, overflying the front section of the aircraft and eventually landing on the SATCOM antenna cover of the Mainstay.
At this point, the video feed cut, as if a detonation had been triggered when the drone touched down and, although still inconclusive in providing actual evidence that the attack had been carried out as claimed, the breaking in the video link suggested an explosion might have happened.
In the end, the admission by Lukashenko has confirmed a drone attack was carried out with some damage suffered by the jet:
"Fortunately, the plane has not suffered any significant damage, except, as they say, scratches and one hole in the hull, which does not prevent a military plane from performing its duties," the BelTA news agency quoted Lukashenko as saying.
According to Lukashenko, Belarus asked the Russian side to take this plane for maintenance, replacing it with another one. "That's what has happened," the president noted according to Russian TASS news agency.
A different color in the SATCOM dome, consistent with a replacement of its cowling, were noticed in the images of the A-50U flying after the attack and there were also claims that the Mainstay had returned to Taganrog airfield, in southwest Russia, home of the Taganrog Beriyev Aviation Scientific-Technical Complex.
Питання щодо обтікача антени. pic.twitter.com/lv7olE0d27

— MilitaryAviationInUa (@Ukraine_AF) March 3, 2023
On the other side, while denying an involvement in the drone attack, the Ukrainian military has a different take on the attack, stating that the A-50U Mainstay was not just slightly damaged:
The Russian A-50U aircraft was severely damaged during the attack by Belarusian partisans at Machulishchy military airfield. This was stated by Oleksiy Danilov, the secretary of the National Security and Defense Council of Ukraine.
1/3 pic.twitter.com/vydmt6k6XR

— Belarusian Hajun project (@Hajun_BY) March 7, 2023
Danilov also said that Ukrainians are grateful to Belarusians who help Ukraine:
"As for the people of Belarus, you know that a large number of Belarusians help us to fight the enemy on our territory. We are grateful to them for that."
3/3

— Belarusian Hajun project (@Hajun_BY) March 7, 2023