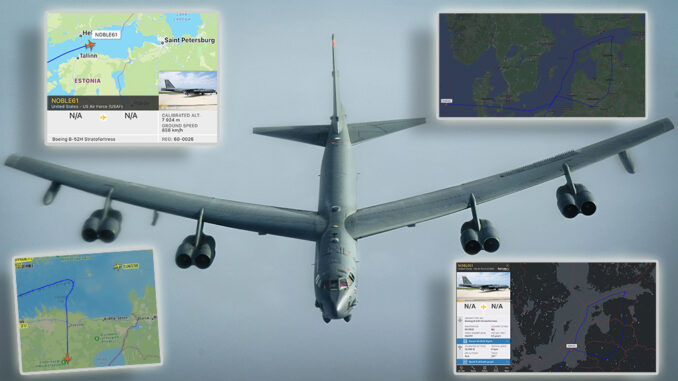 During its sortie the B-52 got closer to St. Petersburg and Kaliningrad than ever seen before on flight tracking websites.
On Mar. 12, 2023, one of the four B-52 Stratofortress bombers assigned to 5th Bomb Wing from Minot Air Force Base, North Dakota, deployed to Moron Air Base, Spain, to support the latest Bomber Task Force (BTF), carried out a pretty interesting mission.
Using callsign NOBLE 61, the B-52 #60-0026, first flew towards Norway, then headed south, overflew Denmark and once over Poland, it was refueled by a KC-135, and then headed northeast.  Flying over the Baltic Sea towards the Gulf of Finland, the bomber, always tracking online on Flightradar24.com and other flight tracking apps, flew off Kaliningrad Oblast, then turned east pointing more or less towards Saint Petersburg.
While remaining in international airspace, the BUFF entered Saint Petersburg's FIR (Flight Information Region) towards the Russian island of Gogland, then turned south, overflew Estonia, Latvia and Lithuania.
Wow, the B-52 (60-0026, NOBLE61) flies deep into the Gulf of Finland before cutting south close to the Russian sea border. A Russian civilian (SU6330) behind it continues ahead at about same altitude. Let's hope radars/air traffic control are working… pic.twitter.com/K5iPv5k0rl

— Hans Kristensen (@nukestrat) March 11, 2023
Once over Lithuania, the strategic bomber turned again towards the Baltic Sea and, on a westerly heading, flew north of the border with Kaliningrad Oblast.
Don't need Saturday movie. pic.twitter.com/Jk02d92vxX

— Jamming (@balticjam) March 11, 2023
While we have observed other U.S. bomber missions in the Baltic region, to our memory, this was the most "in depth" into the Gulf of Finland we could track online.
Another B-52 mission quite close to the Russian airspace that could be watched live on flight tracking apps dates back to September 2020, when three Stratofortress bombers operated over Ukraine's Sea of Azov coast, not far from Crimea.
Anyway, long range deterrence missions, carried out by B-52, B-2 or B-1 bombers have become almost routine in Europe, as they are a way to enhance cooperation, reassure local allies and flex muscles against Russia. Since B-52s not always leave their Mode-S transponders turned on during their missions across Europe and the rest of the world, the fact that NOBLE 61 was tracking online during its all-around-Scandinavia and Baltics sortie proves they wanted to be seen.
The "show of force" sent social networks on a frenzy: some people thought the B-52 had intruded into the Russian airspace. However, as explained multiple times here, the border of an FIR does not coincide with the border of a national airspace, as the first is usually much larger and includes international airspace.