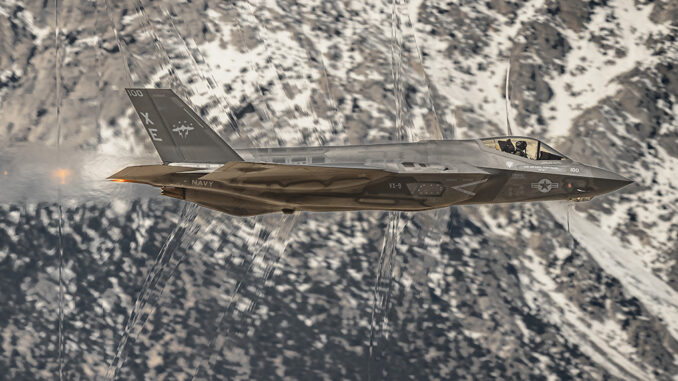 Unbelievable photo shows light distortion caused by shock waves generated by an F-35C Lightning II flying low and fast on the Sidewinder low level training route.
In the past few years we have posted some interesting shots of jets flying fast through the famous Sidewinder low level route, between California and Nevada, with visible shock waves. However, this one, beats them all. It was taken recently by our friend @point_mugu_skies and shows an F-35C assigned to the Air Test and Evaluation Squadron Nine (VX-9) "Vampires" from Edwards AFB during a low level mission over the Western U.S. last month.
The photo is simply stunning as the shock waves are clearly visible along all the airframe.
But, what exactly are we seeing in the above photo?  Why do shock waves create such optical effect?
At speed lower than the transonic region, air flows smoothly around the airframe; in the transonic region, airflow begins to reach the speed of sound in localized areas on the aircraft, including the upper surface of the wing and the fuselage: shock waves are generated by the interaction of two bodies of gas at different pressure, with a shock wave propagating into the lower pressure gas and an expansion wave propagating into the higher pressure gas: while the pressure gradient is significant in the transonic region, an aircraft maneuvering at high-speed through the air also creates a pressure gradient that generates shock waves at speed much lower than the speed of sound.
Therefore, when a shock wave passes through a medium, in this case the air, it creates rapid and intense changes in pressure, temperature, and density.
These abrupt changes in the physical properties of the medium can affect the speed of light and, consequently, the refractive index. Refractive index is a fundamental property of a material that describes how light propagates through it. It quantifies how much the speed of light changes when it travels from one medium to another, or when the properties of a medium change. For instance, when light passes from one medium to another one, its speed and direction can be altered due to the difference in optical density between the two materials. This change in direction is known as refraction. The refractive index is a measure of how much the speed of light is reduced and the angle of light is bent as it enters a new medium. The change in refractive index is responsible for various optical effects, such as the bending of light in lenses or the apparent displacement of objects in water.
The refractive index of a medium is dependent on its optical properties, such as density and temperature. Since a shock wave alters these properties, it leads to variations in the refractive index within the shock wave region.
H/T to @point_mugu_skies for allowing us to use the photo. Make sure to follow him on Instagram for more amazing shots!