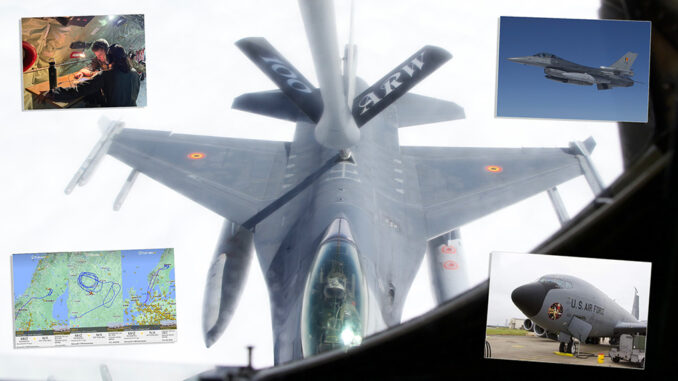 We refueled Belgian F-16s, Italian and Dutch F-35s during Arctic Challenge 23, the premier Nordic large-force, live-fly field training exercise.
About 150 aircraft and approximately 2,700 coalition personnel from 13 nations are involved in ACE 23, the latest iteration of Arctic Challenge, an exercise series taking place throughout Finland, Norway and Swede until Jun. 9, 2023. The biennial drills were born in 2013 as an interoperability training exercise between Finland, Sweden, and Norway, and it has now expanded to incorporate nearly every Arctic nation and many NATO Allies and Partners.
The U.S. Air Force and U.S. Navy as well as the other NATO air arms routinely conduct operations in the High North alongside the Finnish, Swedish, and Norwegian Air and Naval Forces, however, the size of ACE and the variety of assets that took part in the exercise make it remarkable because they prove a growing pivot to the strategic Arctic theather, the "battlefield" for an intensifying struggle between the U.S., NATO and Russia, for military as well as economic reasons (mostly related to energy extraction and maritime shipping activities).
For instance, this year, the Arctic Challenge saw two U.S. Air Force B-1B Lancer bombers deployed to RAF Fairford for Bomber Task Force 23-3 join U.S. Air Force and Royal Norwegian Air Force F-35A Lightning II stealth fighter aircraft during Arctic Challenge Exercise 2023 in a counter-maritime mission involving the USS Gerald R. Ford (CVN 78) Carrier Strike Group and embarked Carrier Air Wing (CVW) 8 with their F/A-18 Super Hornet and EA-18 Growler jets, as well as P-8A Poseidon MPA (Maritime Patrol Aircraft), and Allied naval assets throughout the North Sea.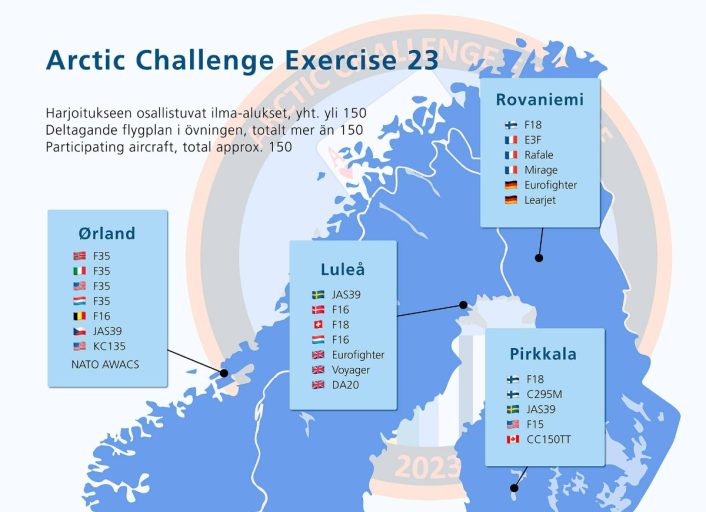 On Tuesday June 7, 2023, we got a chance to take part in an ACE 23 mission flying aboard KC-135R 60-0333, radio callsign QID 22,  from the 100th ARW from RAF Mildenhall. The aircrew of QID 22 included Maj. Jarrod J. Ebner, Capt. Pablo A. Frias, Capt. Shanon C. Teicher and SrA Daniel E. Crump (Boom Operator). For the lead pilot, Maj. Ebner, this was his penultimate flight in the KC-135R, after logging 6,000 hours flying over 24 years in the U.S. Air Force.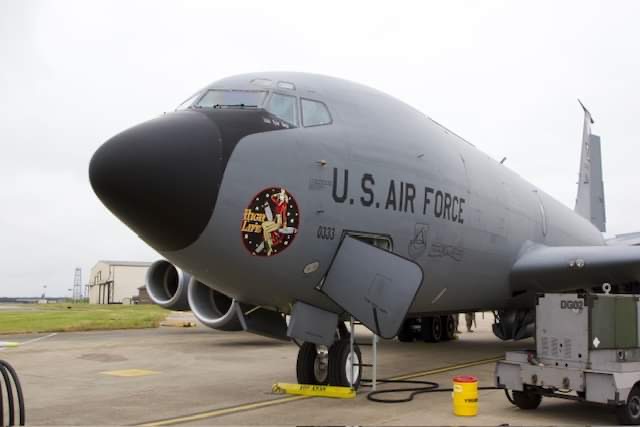 The mission departed RAF Mildenhall at 10:00 AM and landed back at 16:40.
The KC-135 flew for 2 hours 45 minutes before tanking the first F-35s over Sweden where the refueling area was located. The tanker could be tracked online thanks to its Mode-S/ADS-B transponder.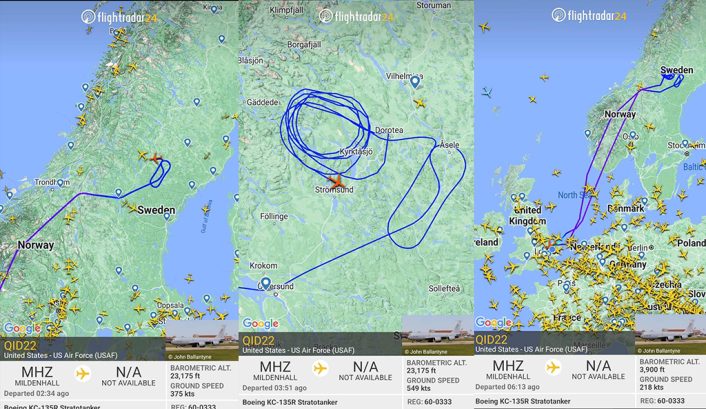 The task of QID 22 was to refuel four Belgian Air Force F-16s, including the one sporting the Tiger painted scheme, four RNLAF (Royal Netherlands Air Force) F-35s and four ItAF (Italian Air Force) F-35s, all deployed to Orland Air Force Station, Norway, that is also the base of the RNoAF F-35s.
Our correspondent Stewart Jack took the photos and videos you can find in this post.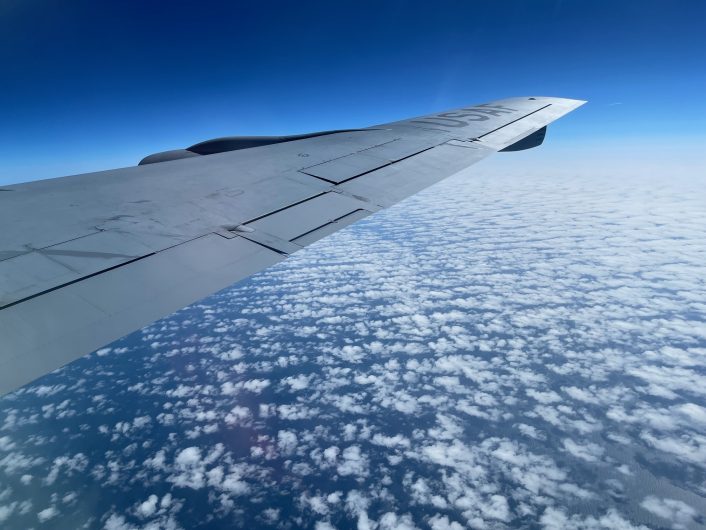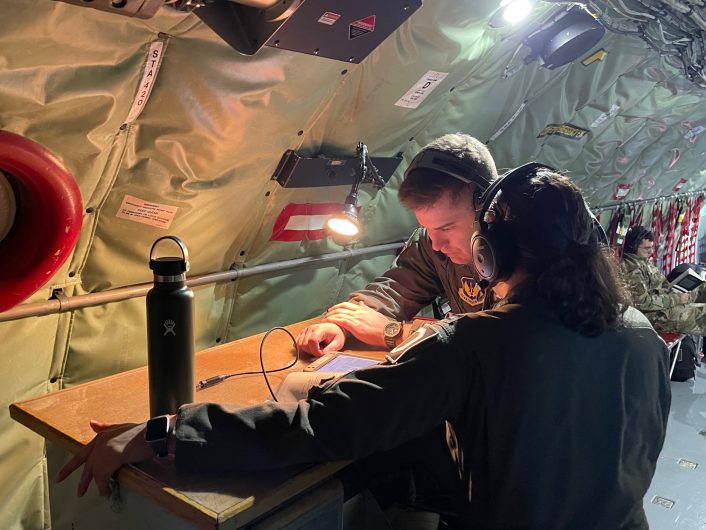 As experienced by Stewart in first person, it is not easy to take shots from the boom operator position, as there isn't much room when lying next to the boom operator.
While somehow limited the view from the vantage point is not bad!
Unfortunately, the boom window was covered in a lot of fluid causing much of the refueling imagery to look soft and/or dirty. Moreover, for security reasons, media aboard the KC-135 were not allowed to take photographs of the 8x F-35s that refueled from QID 22.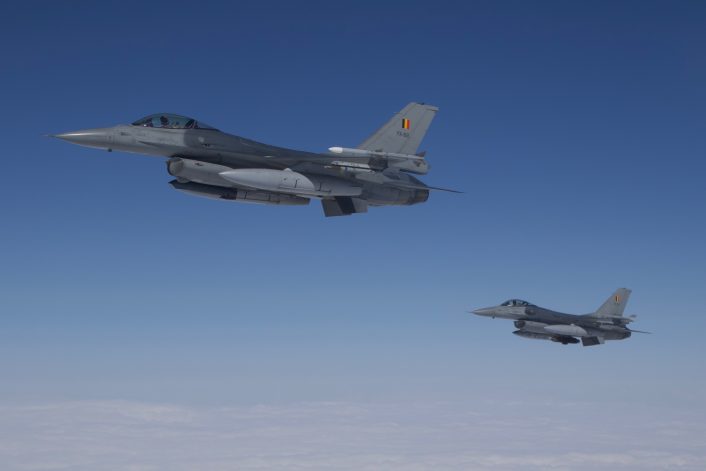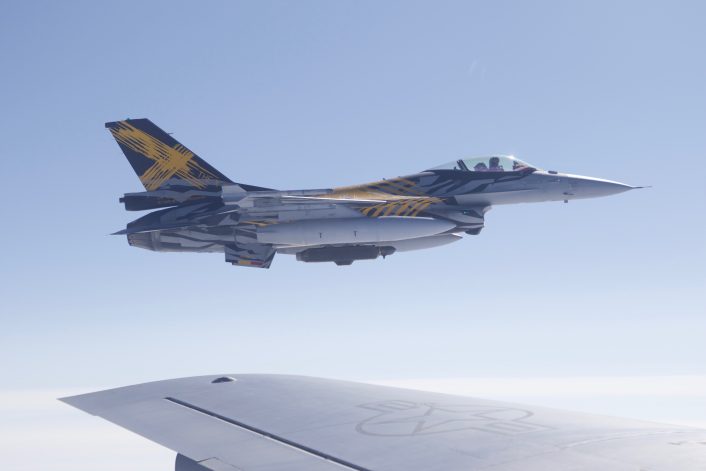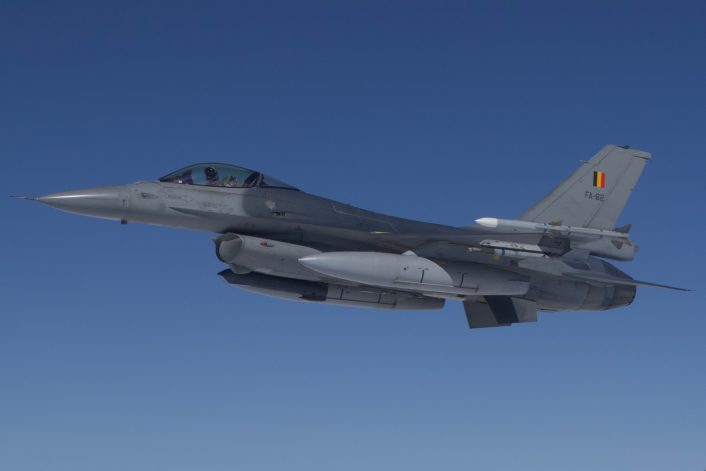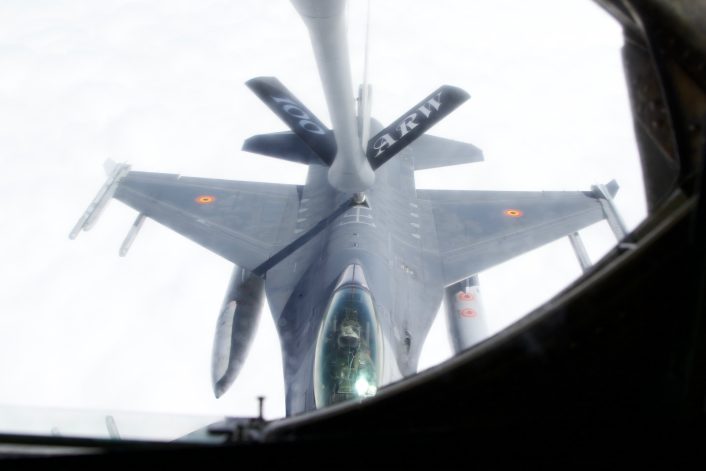 Photos of the Italian and Dutch Lightnings taking part in the mission over Sweden were later released by the U.S. Air Force through the DVIDS (Defense Visual Information Distribution Service) – although the caption said the F-35s were Italian and Norwegian…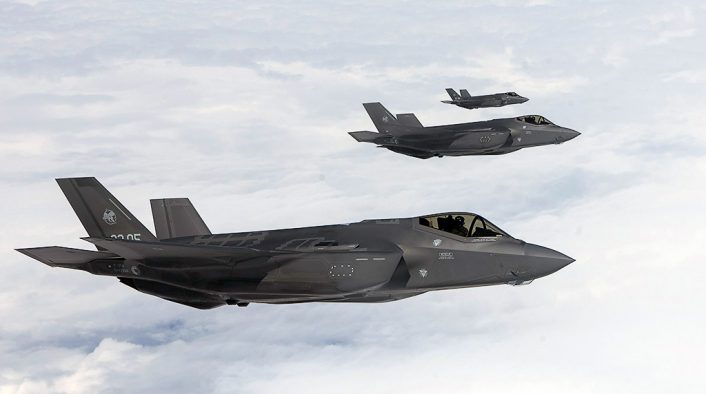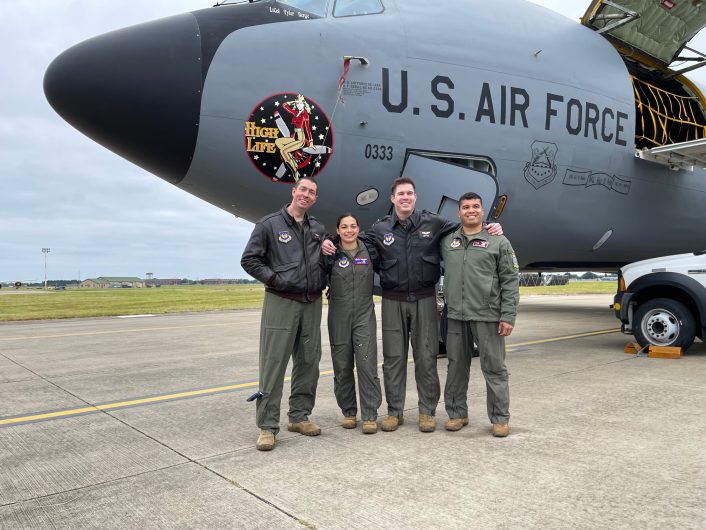 A big thank you to the U.S. Air Force in Europe and Africa Command for inviting us to take part in this mission!