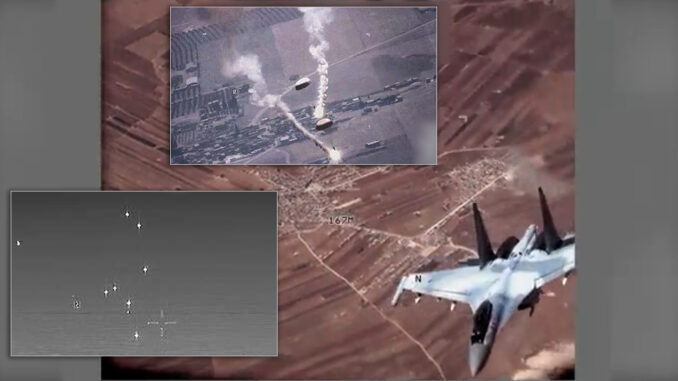 A video recorded by the drones' sensors shows the Flankers lighting up the afterburners and releasing flares in front of the Reapers.
After the collision with an MQ-9A Reaper over the Black Sea earlier this year, it appears that Russian jets are still getting very close to US drones. This time, however, the incident happened over Syria and all aircraft safely returned to base afterwards. The U.S. Air Force Central Command immediately released a statement addressing the incident, together with the video recorded by the MQ-9s.
According to the statement, the incident happened on July 5, 2023 at approximately 10:40 A.M., as three MQ-9 drones were conducting a mission against ISIS targets. Three Russian military aircraft, which AFCENT identified as Su-35s, engaged in "unsafe and unprofessional behavior", "harassing" the drones. We are already well accustomed to these phrasing after years of close intercepts in that area, however the actions during these incidents seem to be getting more aggressive.
Regarding Russia's unprofessional behavior while reacting with U.S. aircraft over Syria, please see the video of today's encounter.
For the full statement by Lt. Gen. Alex Grynkewich, Commander, 9th AF (AFCENT) visithttps://t.co/WKDYPiPT96@CENTCOM @DeptofDefense @usairforce pic.twitter.com/nmSSBxUojO

— US AFCENT (@USAFCENT) July 5, 2023
In addition to the usual images of Flankers in very close proximity to the intercepted aircraft, the video recorded by the Reapers' sensors show the Russian aircraft using the afterburner in front of the drones, as well as releasing parachute flares which forced the MQ-9 operators to perform evasive maneuvers. While these maneuvers were employed by Russian aircraft in other occasions, the use of parachute flares is rather uncommon.
"These events represent another example of unprofessional and unsafe actions by Russian air forces operating in Syria, which threaten the safety of both U.S. and Russian forces," said Lt Gen Alex Grynkewich, AFCENT Commander and Combined Forces Air Component Commander for CENTCOM. "We urge Russian forces in Syria to cease this reckless behavior and adhere to the standards of behavior expected of a professional air force so we can resume our focus on the enduring defeat of ISIS."
This incident follows reports from earlier this year where Russian aircraft aggressively maneuvered while interacting with US F-16s "almost like they're trying to dogfight". These actions are considered in violation of the mutually agreed deconfliction protocols and, according to CENTCOM, the number of these violations is rapidly increasing.