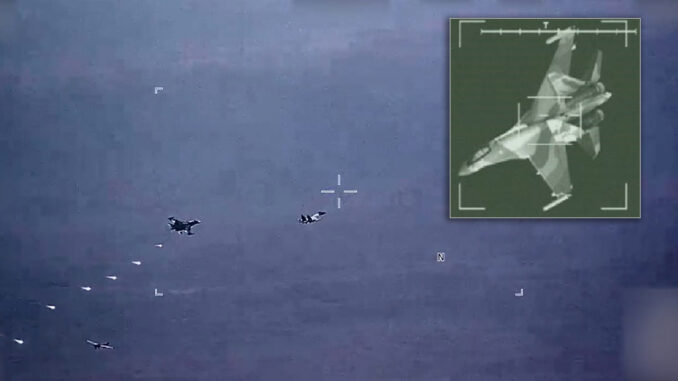 A day after the previous incident, a new one is being reported and it involves US MQ-9s and French Rafales.
For the second time in two days, the US Central Command is reporting new incidents between Russian and Coalition warplanes over Syria. This time, it appears that Russian fighters are getting more aggressive not only with US aircraft, but also with other Western nations, as one of these incidents involves French Rafales.
"The repeated violations, of Russian air forces, of agreed-upon standards and practices, is now becoming a significant safety concern in the region," commented Gen. Michael "Erik" Kurilla, commander of U.S. Central Command after yesterday's incidents.
Similarly to the earlier report, the first incident involves MQ-9 Reaper drones and Russian Sukhois. In fact, at around 9:30 A.M. local time on June 6, the Russian aircraft, identified as a Su-34 Fullback and a Su-35 Flanker, "engaged in unsafe and unprofessional behavior" while interacting with at least two Reapers carrying out a D-ISIS mission in Syria.
For the 2nd consecutive day, Russian military fighter aircraft engaged in unprofessional behavior with U.S. aircraft over Syria. Please see the video of today's encounter.
For the full statement by Lt. Gen. Alex Grynkewich, Commander, 9th AF (AFCENT) visit https://t.co/Kv64rtJgUt pic.twitter.com/OXwM78DKGV

— US AFCENT (@USAFCENT) July 6, 2023
The video from the MQ-9's sensors show the Sukhois flying very close to the drones while dropping flares. It appears that the video includes two sequences, the first one recorded by the drone in front of which the flares were released and the second one recorded by a nearby MQ-9. This time the Russian aircraft used standard flares, instead of the parachute flares used in the most recent incident.
"These events represent another example of unprofessional and unsafe actions by Russian air forces operating in Syria, which threaten the safety of both U.S. and Russian forces," stated again Lt Gen Alex Grynkewich, AFCENT Commander and Combined Forces Air Component Commander for CENTCOM. "We urge Russian forces in Syria to cease this reckless behavior and adhere to the standards of behavior expected of a professional air force so we can resume our focus on the enduring defeat of ISIS."
#Chammal | Le 06/07, 2 Rafale 🇫🇷 en mission de protection à la frontière irako-syrienne ont réagi à une interaction non-professionnelle de la part d'un SU-35 🇷🇺.

Les pilotes 🇫🇷 ont manœuvré afin de maîtriser le risque d'accident avant de poursuivre leur patrouille. pic.twitter.com/jJPvKMutUl

— Armée française – Opérations militaires (@EtatMajorFR) July 6, 2023
Later in the day, the French armed forces reported an incident with Russian aircraft too. The details are scarce, however the brief statement released on social medias explains that two Rafale fighters had to maneuver to avoid a non-professional interaction from a Russian Su-35 fighter while they were conducting a security mission near the Iraqi-Syrian border as part of Opération Chammal.
A photo, which appears to have been taken by the OSF (Optronique secteur frontal/ frontal sector optronics), the InfraRed Search and Track (IRST) installed on the nose of the Rafale, shows a Su-35 crossing paths with the Rafales. It is unknown if the Russian jet used flares also in this occasion.