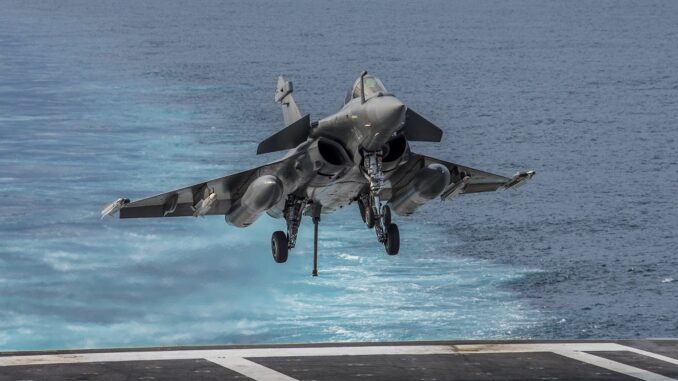 With the Rafale M winning against the F/A-18 Super Hornet, India is now set to become the type's first export operator.
The Indian government announced the selection of the Dassault Rafale M, the naval variant of the French-made fighter jet, to equip its indigenous INS Vikrant aircraft carrier. The decision was announced while the Indian Prime Minister was visiting France on July 14, 2023, for the Bastille Day celebrations, however it was already expected as the Indian Navy expressed its preference back in March.
The selection of the Rafale is the result of an extensive competition between the F/A-18 Super Hornet and the Rafale M, which also saw the two aircraft participating in a trial campaign in India. Both fighters were tested according to the Indian Navy's operational requirements, including the ability to effectively and safety operate off the Indian STOBAR (Short Take-Off But Arrested Recovery) aircraft carriers.
The aircraft were subject to similar trials, completing multiple ski-jumps, roll-in and fly-in arrestments, as well as performance flights, in a variety of weights in the air-to-air, air-to-ground, and air-to-surface configurations. The Indian Navy, once the contract is finalized, will receive 26 Rafale M, making India the first country outside France to acquire the naval variant of the aircraft and once again confirming the very good relations between the countries.
"As we celebrate the 70th anniversary of our partnership with the Indian Forces, I would like to thank the Indian authorities for this new mark of confidence and pledge, on behalf of Dassault Aviation, that we will fully meet the Indian Navy's expectations with the Rafale", said Eric Trappier, Chairman and CEO of Dassault Aviation.
Indian media outlets  are reporting that the deal includes 22 Rafale M single seaters and four Rafale B twin seaters, with the latter being used for land-based training since they are not carrier capable. The deliveries are expected to begin 36 months after the signing of the contract, which also involves the participation of Indian industries.
Also, the reports mention the offer of the French Navy to send between two and four of their Rafale M jets to India within six months from the signing of the contract to start the training of the pilots. The aircraft will be returned to France once the deliveries of the Indian aircraft begin.