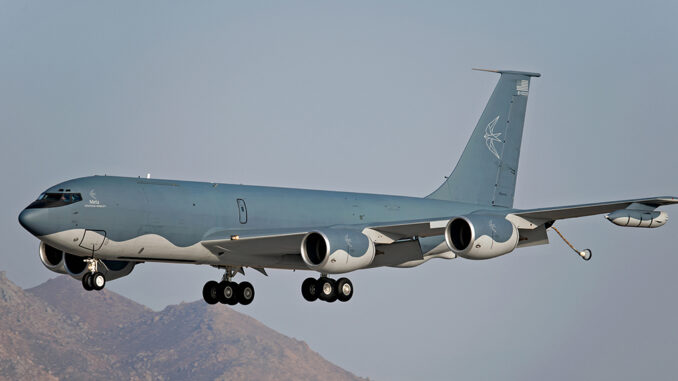 Years after the Navy, the Air Force decided to supplement its tanker fleet with commercial aerial refueling services.
The U.S. Air Force employed for the first time last month a commercial aerial refueling service to refuel a RC-135 Rivet Joint and E-3 Sentry during exercise Resolute Hunter 23-2. From June 23 through June 29, 2023, Metrea Strategic Mobility provided four aerial refueling support missions for the RC-135 and E-3 aircraft involved in the exercise, with a total of 13 boom contacts and nearly 90,000 pounds of fuel offloaded.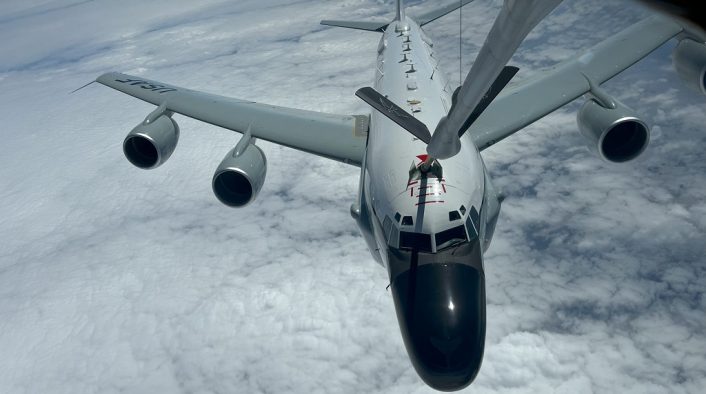 "It was fitting that we could support the US Air Force in achieving this major milestone during the same week that we marked the 100th anniversary of aerial refueling," said Jon "Ty" Thomas, Head of Metrea's Air and Space Group. "Our team worked closely with NAVAIR, Air Combat Command, and the receiver RC-135 and E-3 units to pull this off and deliver the training effect needed. We look forward to supporting more US Air Force refueling requirements as well as increasing demand from allies and partners."
Commercial air-to-air refueling is not a novelty, as the U.S. Navy has been using it in training and non-combat operations for decades. Until now, however, there was a lack of commercial tankers equipped with the boom, the main air-to-air refueling method used by the Air Force. In fact, the famous Omega Aerial Refueling Services, which is often seen supporting Navy jets, operates KC-707 equipped with probe-and-drogue refueling systems, the preferred method of the Navy.
Only in 2020 Omega and Metrea acquired a former Dutch KDC-10 and Singaporean KC-135Rs, respectively, equipped with boom system. The first-ever commercial boom aerial refueling was then performed in April 2023, when a Metrea KC-135R refueled two P-8 Poseidon maritime patrol aircraft over a period of 4 hours off the coast of Florida.
In that occasion, Metrea reported it has a mission reliability rate of 93% since beginning execution of a NAVAIR contract in late 2021 and has flown over 130,000 accident-free flying hours, across multiple aircraft types, missions, and geographies in support of US, UK, and other allied and partner government national security objectives.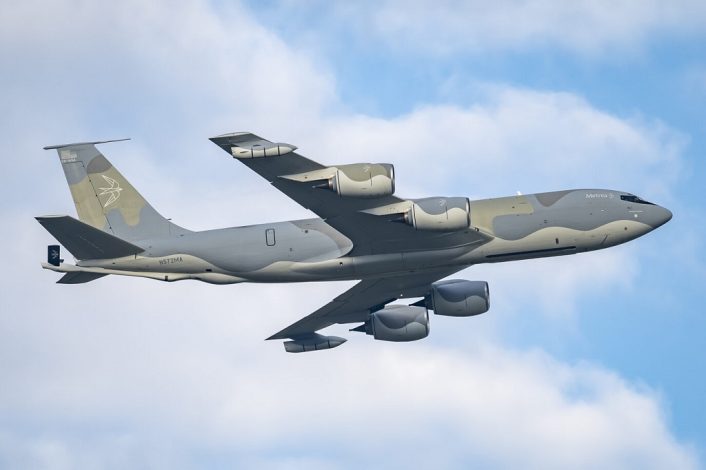 The Air Force has been facing for some years a tanker shortage, with the retirement of the KC-10 Extender, the exhaustion of the remaining KC-135 Stratotankers' service life and the delays of the new KC-46 Pegasus. Because of this, in 2020 the Air Force conducted a feasibility study to determine whether it is cost-effective to use commercial aerial-refueling services.
The Air Force estimated it will need about 6,000 additional flying hours per year, with the additional tanking capacity costing between $15,000 and $27,000 per flying hour and taking anywhere from one to 10 years to implement. In 2020, Gen. Maryanne Miller, then commander of Air Mobility Command, said commercial aerial-refueling services could relieve pressures on the military's own tankers, filling the gap for U.S. missions when there is high demand abroad.