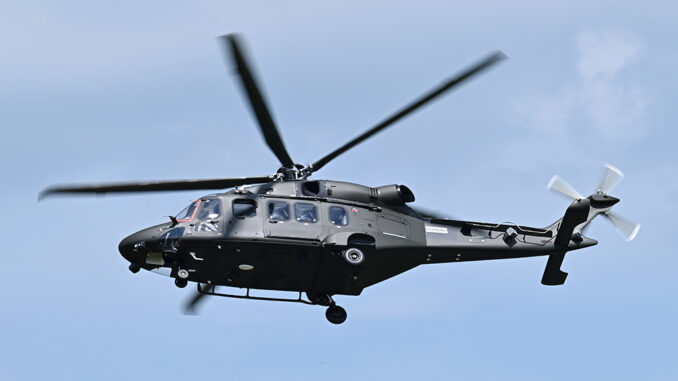 The first Leonardo AW149 helicopter for the Polish Armed Forces has flown.
The first Leonardo AW149 multirole helicopter for the Polish Land Forces carried out the first test flights at the company's plant in Vergiate, Italy, last month. The aircraft, photographed by our contributor Oscar Bernardi, still carries Italian experimental registration CSX82112 and it is the first of four battlefield support helicopters for the Polish Army that will be built in Italy.
The contract, signed last year and worth 8.25B PLN gross (about 1.76B Euro), calls for the delivery of 32 AW149 helicopters with a logistics package (including spare parts and equipment for ground support of the helicopters) and a training and simulation package (full training of pilots and technical personnel as well as as a set of advanced simulators and training equipment).
The other 28 helicopters will be produced by PZL-Świdnik, a Polish company wholly owned by Leonardo, which will act as prime contractor at a production line for the helicopters in Poland. The AW149 will be delivered to the Polish Army between 2023 and 2029.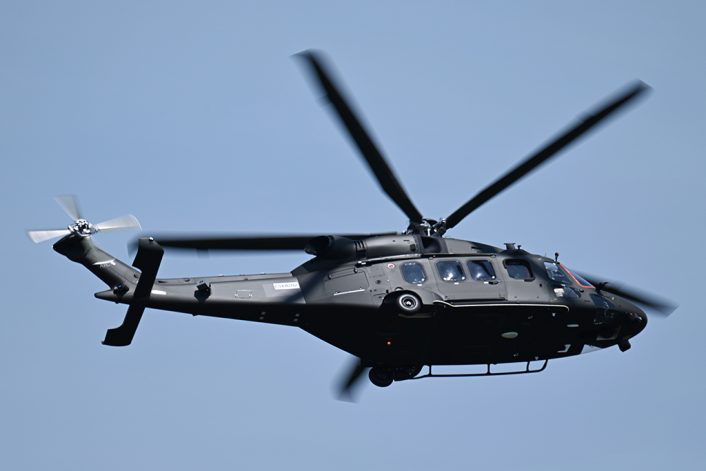 The AW149 helicopter is a multi-role military helicopter capable of day and night flights. It has a maximum takeoff weight of 8,300 kg with possible increase to 8,600 kg. Its maximum speed is 313 km/h, cruise speed is 287 km/h, its range is 958 km and its maximum flight time is 4 hours 55 minutes.
The AW149 can carry 19 passengers and has a crew of 2 pilots, but basic tasks can also be performed by a single pilot.
The AW149s, in a configuration corresponding to the needs of the Polish Armed Forces, will be equipped with observation systems, small arms, guided missiles, unguided rockets, and self-defense systems. The helicopters will also be armed with the Hellfire missiles, 800 of those have been requested by Poland to the U.S. via a Foreign Military Sale (FMS). The armament, depending on the type and the helicopter's configuration, may be installed in the cabin or externally on the stub wings.
Dealing with the role, the AW149's primary mission will be troops transportation and general support tasks, but the helicopter will also be used Medical Evacuation, Combat SAR (Search And Rescue) and for cargo and supply transportation.