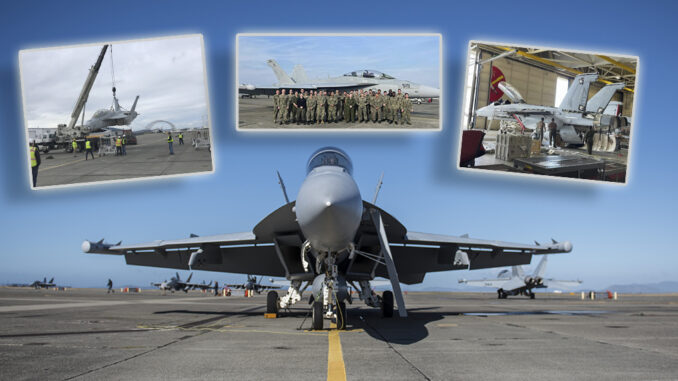 The EA-18G had only 1,640 Flight Hours when it was damaged.
"Viking 515", EA-18G BuNo 168273, assigned to VAQ-129 "Vikings" flew for the first time since 2017, on Oct. 17, 2022. The sortie was an FCF (Functional Check Flight) out of NAS Whidbey Island (NASWI) that marked the return to the air for the jet after a mid-air collision grounded it.
The Growler, at the time assigned to VAQ-136, was involved in a mid-air collision with another aircraft of the Carrier Air Wing 2 , on Sept. 14, 2017. The aircraft safely recovered to NAS Fallon, Nevada, where it sat "alone in the desert outside of hangar 1" until 2019, when, after numerous damage assessments and analysis, it was determined it could be fixed.
Some more details were provided last year by the Commander of the Electronic Attack Fleet.
"In 2019 it was determined that the aircraft could be repaired by replacing the Y-128 former forward of the cockpit and be able to retain its life expectancy. This type of repair had never been done before so, the repair was performed on a strike aircraft at Fleet Readiness Center Southwest to detail the repair steps, determine equipment requirements and the proof of concept for the repair. It was then determined that no major teardown of the aircraft would be needed requiring new jig development or special repair facilities."
"It late 2020, leadership decided to ship the aircraft to Naval Air Station Whidbey Island for repair by the depot artisans at Fleet Readiness Center Northwest. A team from VAQ-129 went to NAS Fallon to begin the preparation work. A depot team at NAS Fallon began aircraft final preparations in December for overland shipment that involved wing removal, flight control surface removal, and other aircraft configuration requirements.
"The aircraft left NAS Fallon on the afternoon of February 16, 2021 on a flatbed semi-truck arriving at NAS Whidbey Island at approximately 1100 on Friday, February 19, 2021. The aircraft was craned off onto bucks, landing gear lowered, and tires reinstalled before being lowered to the ground. The Y-128 former must now be milled and installed. It is expected to take 8 – 12 months to make repairs barring any significant delays. The aircraft has only 1640 flight hours on the airframe so it has a lot of life left in service to the country."
The Boeing EA-18G Growler is an Electronic Warfare/Attack variant of the two-seat F/A-18F Super Hornet that replaced the EA-6B Prowlers in U.S. Navy service. Along with actively jamming enemy communications, the Growler, operating in a networked environment along with other two aircraft of the same type can use its EW pods to geo-locate a signal source and target it from stand-off distance with air-to-surface missiles. It is an extremely valuable aircraft (whose cost should be around 120M USD), with an expected operational lifespan of around 8,000 flight hours: since military aircraft, on average, log between 230 and 300 flight hours per year, if saved, this Growler could theoretically remain in service for another two decades, saving a lot of taxpayers money.
However, after it was transferred to Whidbey on a flatbed semi-truck to complete repairs and rebuild, it seemed that BuNo 168273 would never fly again: "after the canopy was opened in Fallon and significant water damage was discovered," says a post on the VAQ-129 FB page.
Eventually, the valuable aircraft was made airworthy again. "Getting this aircraft airborne again took a huge team effort across the entire Naval Aviation Enterprise team."