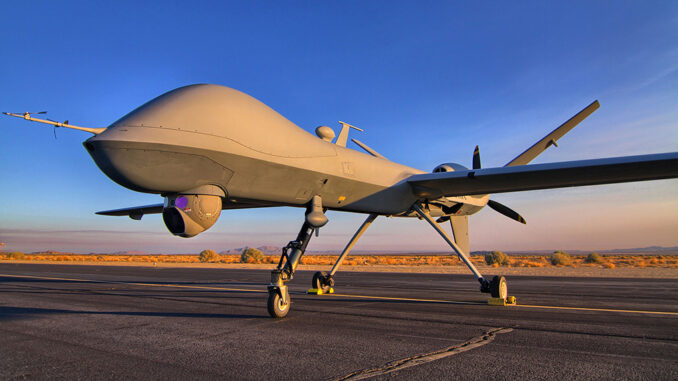 Poland to lease gap-filler MQ-9As.
On Oct. 20, 2022, the Armament Agency of the Polish MoD, and General Atomics – Aeronautical Systems Inc., have concluded a leasing agreement regarding the MQ-9A Reaper UAV. According to information officially released by the Polish Armed Forces, the MQ-9As would expand the Polish military's aerial reconnaissance capability.
The leasing agreement has a value of USD 70.6 million (net). The leasing service would remain valid until the Polish Armed Forces actually procure and commission the MQ-9B Reaper UCAV – as the Armament Agency reports.
Do jednego z obecnych zaawansowanych rozwiązań w zakresie rozpoznania zaliczane są bezzałogowe statki powietrzne. Dzisiaj podpisana została umowa z @GenAtomics_ASI na leasing systemu MQ-9A #REAPER. Pracujemy też nad zakupem systemu MQ-9B.https://t.co/E0cFzQYXj3 pic.twitter.com/9P0M9tGcY3

— Krzysztof Płatek (@krzysztof_atek) October 20, 2022
The MQ-9As would be used primarily to carry out IMINT and SIGINT roles. The Polish MoD has not released any details regarding the detailed specification of the UAVs acquired yet.
We know that the MQ-9A orders were only being accepted until a few weeks ago. The Dutch MoD was willing to procure extra MQ-9A Block 5s, but the acquisition process was delayed. General Atomics told the Dutch that they would only be accepting deals until August 2022, and later on, only the MQ-9B variant would be available. It is thus reasonable for the Polish MoD to wait for the delivery of the Bravo variant, and use the MQ-9A lease deal as a gap-filler solution.
Leasing of military equipment is nothing new. For instance, the Czech Republic has been leasing the Gripen fighters from Sweden since 2004; in the past, the Italian Air Force leased the F-16ADF to fill the gap between the retirement of the F-104 and the availability of enough Eurofighter Typhoons to carry out the QRA role.
General Atomics already has some experience in leasing its solutions, as USMC used a similar path when it comes to the MQ-9. The solution is a gap-filler for a gap-filler gap. It is not clear how this leasing deal will influence the Polish Zefir UAV acquisition.
MQ-9 is a MALE class UAS that offers up to 26 hours of flight endurance. The sensor suite includes HD cameras (daytime, and IR), and ground imaging/MTI/maritime radar. The B variant lifecycle has been extended. This version also features a deicing system, is capable of carrying more payload and fuel which also translates into greater endurance. Furthermore, the MQ-9B has a greater wingspan and can carry more armament on the wing hardpoints.
Notably, Poland has been making a series of significant moves in the defense procurement area. The air domain deals include the acquisition of the Korean FA-50 light fighter aircraft and AH-64E Apache Guardian helicopters. These investments follow the F-35 acquisition, with the relevant decisions having been announced in 2021.