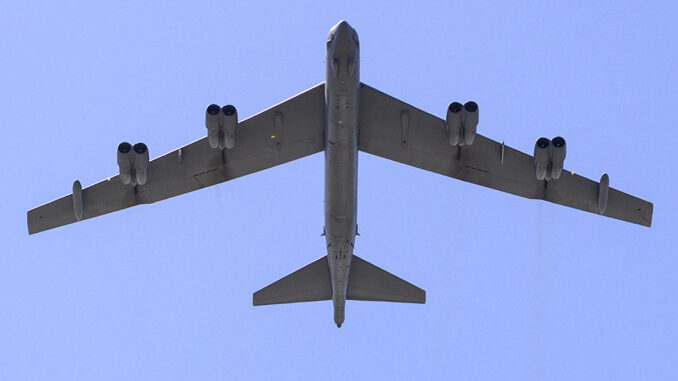 The scheduled flyover sent the social media on a frenzy.
On Feb. 24, 2023, two B-52 Stratofortress bombers assigned to 5th Bomb Wing from Minot Air Force Base, North Dakota, carried out a low approach flyby over Tallinn, Estonia. The appearance of the strategic bombers over the Baltic state, some 200 kilometers from the Russian border, on the first anniversary of the Russian invasion of Ukraine, sparked a lot of speculations, with several wild theories quickly spreading through the social networks.
🇺🇸🇪🇺🇪🇪#Estonia #USA #NATO
US Air Force B-52 strategic bombers in the sky above the city of #Tallinn
320 kilometers to the Russian city of St. Petersburg. #RussiaIsATerroristState pic.twitter.com/YtNR2gcmrC

— Feher_Junior (@Feher_Junior) February 24, 2023
While quite symbolic (and certainly a way to flex muscles through a show of force not far from Russia), the flyby was a previously scheduled operation to celebrate Estonia's Independence Day: the U.S. Air Force also released a press statement that anticipated the presence of the B-52s in the skies of Tallinn on Feb. 23.
"Today we celebrate with our friends from Estonia 105 years of independence" says the press release. "The United States and Estonia are close Allies and share a strong partnership based on a common commitment to democracy, human rights and the rule of law. We remain steadfastly committed to the freedom and sovereignty of Estonia and all our Baltic allies as we deter and defend against any threats to our shared security," said U.S. Air Force Gen. James Hecker, commander of U.S. Air Forces in Europe-Air Forces Africa, and NATO Allied Air Command. "
B-52's departed Minot AFB, North Dakota as MURK51 flt and flew to Estonia to honor their 105th Independence Day celebration in some very marginal weather conditions 🇪🇪 pic.twitter.com/Jr2nXp5bOq

— Thenewarea51 (@thenewarea51) February 24, 2023
Interestingly, the two B-52s spotted over Estonia, were part of a group of four Stratofortresses belonging to the 5th BW that forward deployed to Moron Air Force Base, on Feb. 24, 2023: the two B-52s landed in Moron after the flyby over Tallinn. The four BUFFs will support the latest Bomber Task Force (BTF), routine operations taking place across the globe since 2018 "to demonstrate U.S. commitment to collective defense and to also integrate with Allies and Partners."
"The 23rd Expeditionary Bomb Squadron is thrilled to be back in the European area of operations working alongside our NATO Allies and Partners to further bolster our partnership in the region," said Lt. Col. Ryan Loucks, Commander, 23rd Expeditionary Bomb Squadron. "We are strongly committed to our long-standing relationship with our Allies and Partners, a relationship based on trust, respect and the common goals of protecting our mutual security and strategic interests.
As usual, during the BTF, the B-52s will integrate and train with Allies and Partners through various operations and exercises.