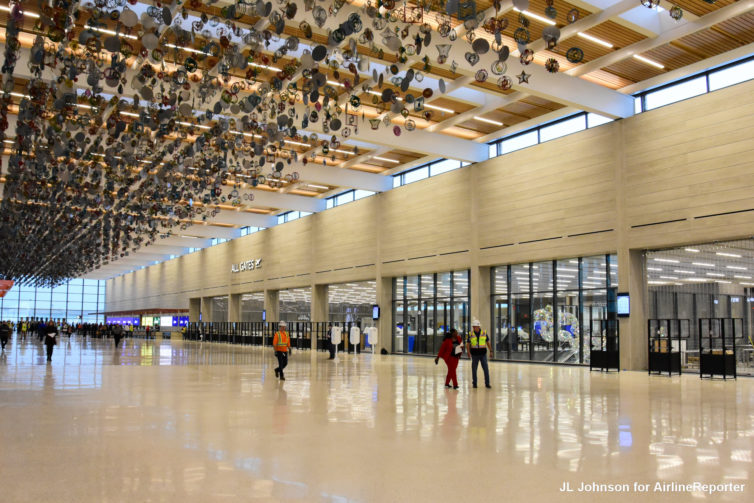 They say that good things come to those who wait. And it seems in the case of the Kansas City (KC) area getting a much-needed unified MCI airport terminal, it finally came! Plans for a single terminal to correctly accommodate passengers have been in the works since at least the 1990s. But here in the Show-Me state, folks are reluctant to accept change without clear benefits. To be honest, many of us are just stubborn. Alas, this isn't a story about the past. Nor is it a story about the citizens of a single city in the two-state KC metro area controlling an economic powerhouse and causing decades of delays in what should have been a routine update. No. This is a celebration lap. For me, for my frequently flying friends, and yes, even those who somehow think the existing scheme is "convenient." (I'll see YOU in the comments!)
I have been a new terminal-evangelist since the late 2000s. Literally ~15 years of work has finally paid off. No, I don't work for any governments and I don't work for the airport. Heck, I didn't even get to cast a vote of support when the new terminal issue graced a KC, Missouri ballot during a low voter turnout cycle. But it's still a victory, and I'll take it.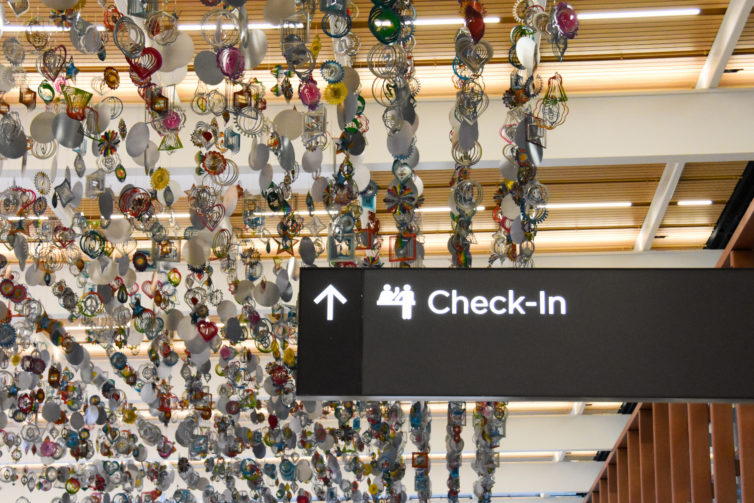 Tomorrow the doors of the new terminal officially open to the public. And for a second time I will walk its halls. Only this time it will be to board and fly the inaugural departing flight. Despite NOT securing early access like some others in our space, I was fortunate to be selected for a preparedness simulation a full two-weeks before opening day. The gist was simple – make sure everything is up to snuff, allow for a public preview, and even throw some local AvGeeks a bone. It was truly a great day.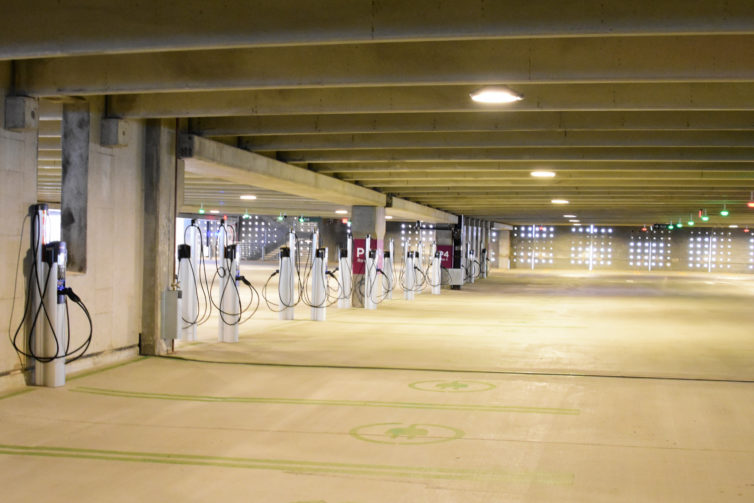 Let's talk about parking…
You probably didn't come here to read about the new parking garage. But that's where the experience starts, and this is the first major improvement over the existing two-terminal design. Presently, it's hit-or-miss on whether you might be able to find an open space in the busy B-Terminal parking garage. Even if there are open spots, good luck winding around trying to find them. And if you do manage to find a spot, don't hope to charge your electric vehicle. There is no charging in the existing garages.
But the new parking garage? It comes in at seven stories with over 6,000 spots. And each space has an indicator light above it. Red is occupied, green is free. This was a fun touch and set the tone for the rest of our experience. It is clear that the airport was designed by people who care about passenger experience and sought to incorporate things that work, while avoiding mistakes of other airports. But I'm getting ahead of myself again.
On the fourth floor of the new parking garage there are around 50 J-1772 electric vehicle charging ports with dedicated parking. For this two plug-in household that's a real perk.
Each day of parking comes in at $25 which is a mere $2 premium over the existing garages. Is this a good price? We'll let you decide. But when traveling on the Corporate card (or rewards) we think the price is right.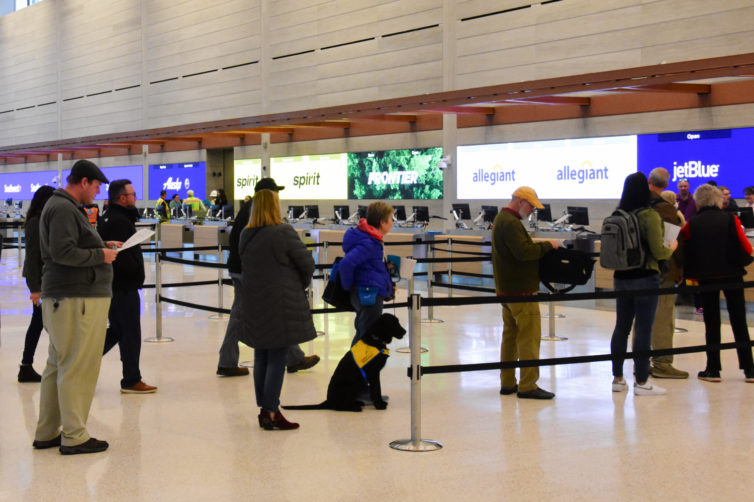 The check-in area:
The check-in area is huge. And it was genuinely weird to see signage for all of the airlines in one place. Remember, since the 1970s airlines have been segregated by terminal at MCI. No more! Large TVs display whatever logo is needed and lanes can easily be exchanged between airlines.
For as beautiful, open, and airy as the building was, it's almost as if the designers wanted to remind MCI travelers of the old experience. Remember all those years spent standing in cramped and serpentine check-in lines which would frequently spill into walking areas? You might be able to do it again, only now waiting for security. During our simulation day the TSA line seemed strained, and slow. Precheck wasn't yet "a thing" and only one line was open. Pre-opening jitters? Will this be a new nuisance? We'll find out tomorrow. Be sure to follow along on AirlineReporter's Mastodon account as this author no longer plays on Twitter.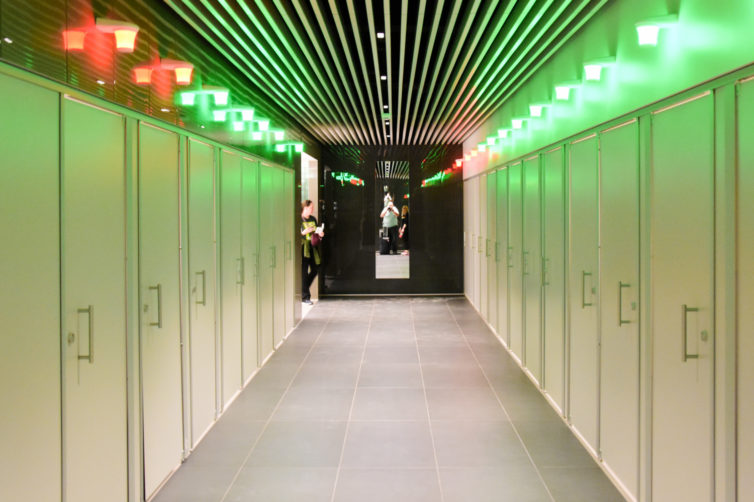 The bathrooms, they're functional. Huzzah!
Right past security is a large all-gender restroom. The stalls have full doors which swing out, not in. That's a major improvement over MCI's existing stalls and others seen around the country. The full doors with overhead indicator lights allow for maximum privacy. One bummer, at the time of our tour there were no hanging hooks in the stalls. My AvGeek wife tells me that's a must-have for purses.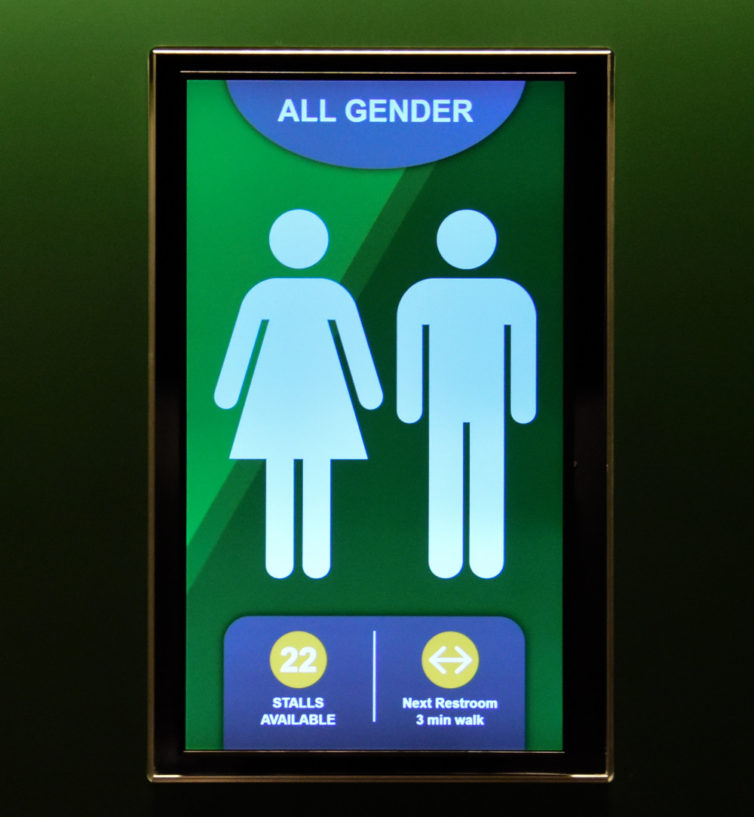 Informal poll- How many times have your pants been assaulted by overzealous airport faucets? More than once? If so, that's unacceptable. I'm pleased to report the sinks in MCI's new terminal aren't pant wetters, what a relief. While we're talking about bathroom annoyances, I seriously want to thank the people behind the terminal for resisting the urge to install cheap, germ-spreading hand blowers over good old fashioned towel dispensers. Some things needn't be modernized, and these folks get it. Bonus points for avoiding over sensitive and wasteful soap auto-dispensers. Did these guys hire usability engineers? Sure seems it. I never thought I'd geek out so much over an airport restroom. But here we are. 2023 is weird.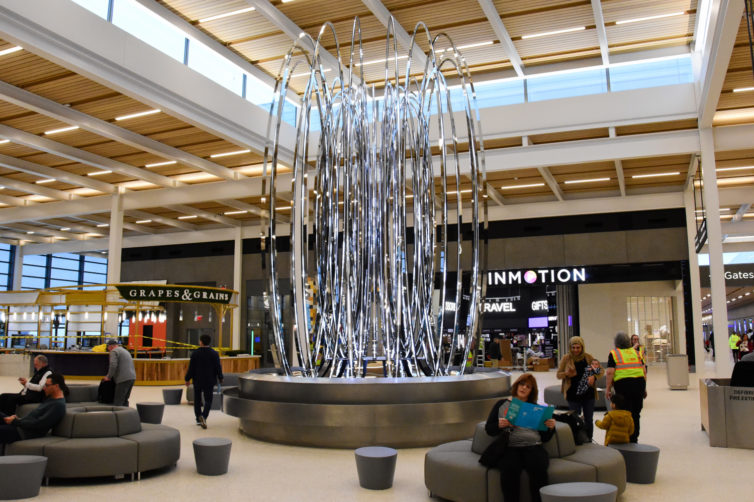 Kansas City Charm.
I am told that Kansas City is known for three things: Barbecue, sports, and being "the city of fountains." Well, I don't eat meat and don't care for sports. So, I was really hoping to see the fountains concept get some play in the new terminal. Water displays are all the rage nowadays, so this is where we could have really shown off. Instead we got a "fountain of light" LED display. While it is undeniably beautiful, I'm not buying it. Seems we won't have to force our DTW friends to abdicate the throne for best Midwest airport water feature. Bummer.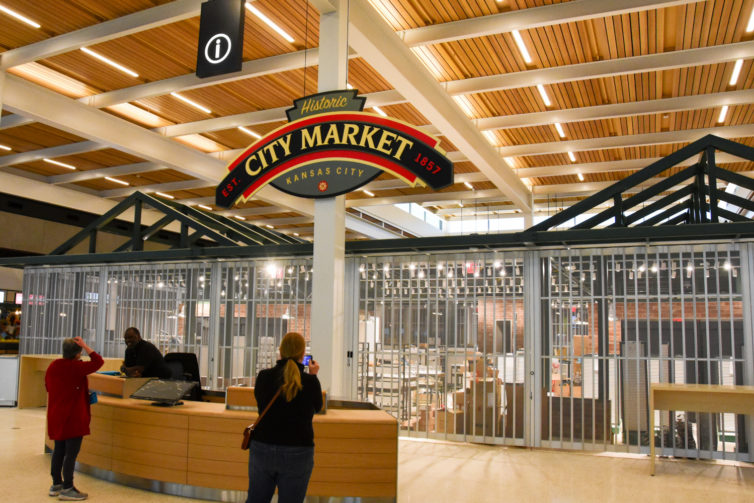 City Market is a long-standing happening place in downtown KC. It was very cool to see it remade in our new terminal. The KC Aviation department is proud that the majority of vendors in the new terminal are local brands. This is great because, frankly, corporate food sucks.
During our visit we spotted a Buffalo State Pizza, Pigwich, Bo Lings, and Meat Mitch. Never heard of them? Then you should get on out here. Seriously, come to KC and check out our new terminal. Then we can meet up at Charbar, a vegetarian-friendly but still meat-forward sister restaurant to Meat Mitch.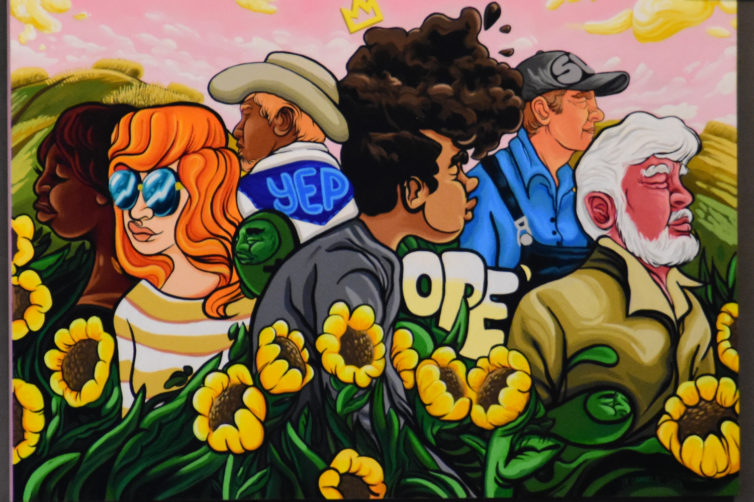 The new terminal has a lot of art. We were particularly fond of this painting by JT Daniels found at one of the 39 gates.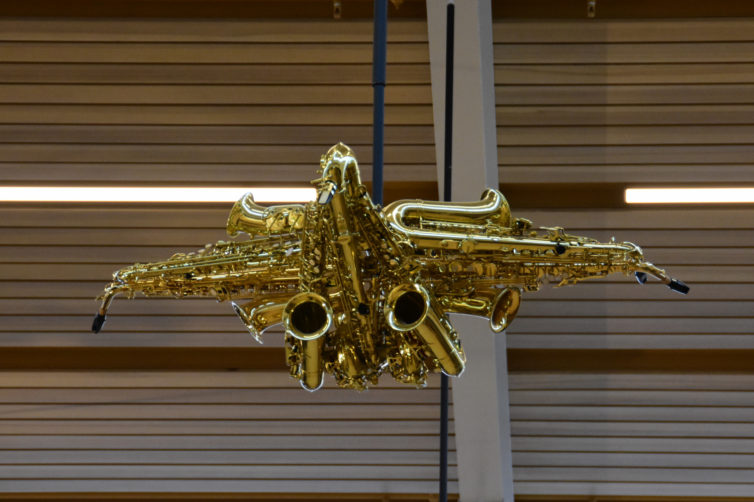 Earlier I said KC is known for three things. Truth be told, it's known for a lot of things. Jazz is one of them. Hanging above a common area between concourse wings are a few of what I'll call labrophone flying machines. Striking art, very cool. And a nice nod to KC's jazz roots.
Inclusive.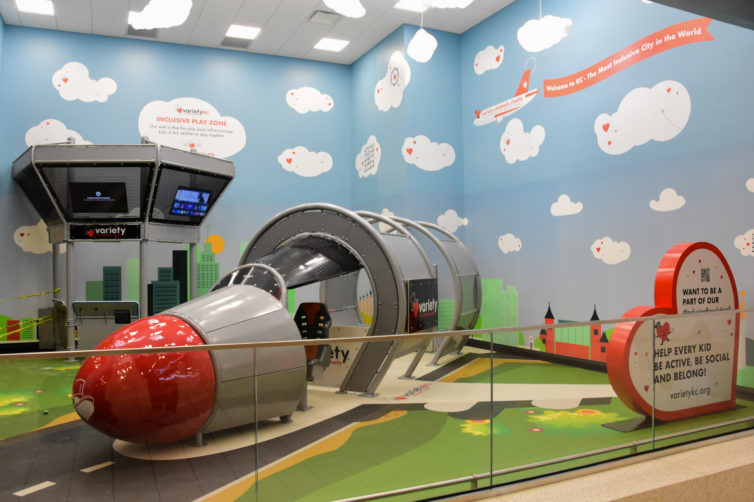 I have already covered the inclusive all-gender restrooms. But I also want to note the children's play area designed in partnership with Variety to be inclusive for all children.
Speaking of inclusivity, rumor has it there is even an air travel simulation room for those with a fear of flying. I couldn't find during my visit, but sources tell me it is indeed there. I'll try again to find it on opening day.
AvGeek Friendly.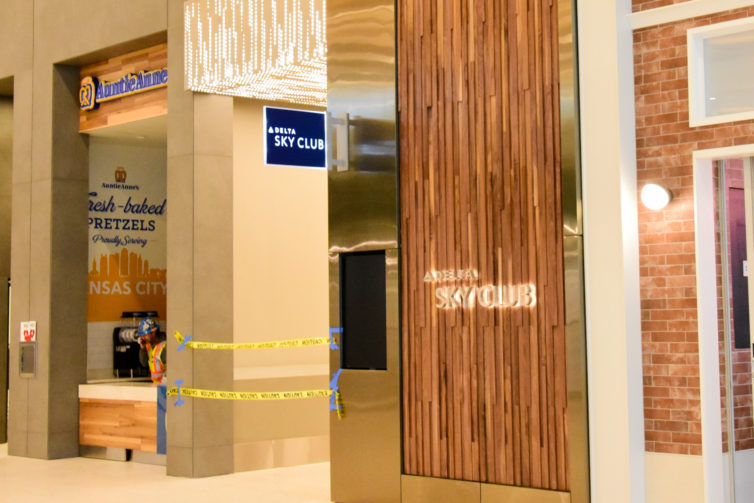 Kansas City hasn't had an elite lounge since a tiny cramped American Admiral's Club closed many years ago. That club was nothing to get excited about as passengers had to crawl over one another to get around. Sardines in a can! KC flyers (DL loyalists, and otherwise) are excited to finally have a legit lounge. How many locals do you think ran out and picked up one of those fancy purple Delta Amex cards? We know a few…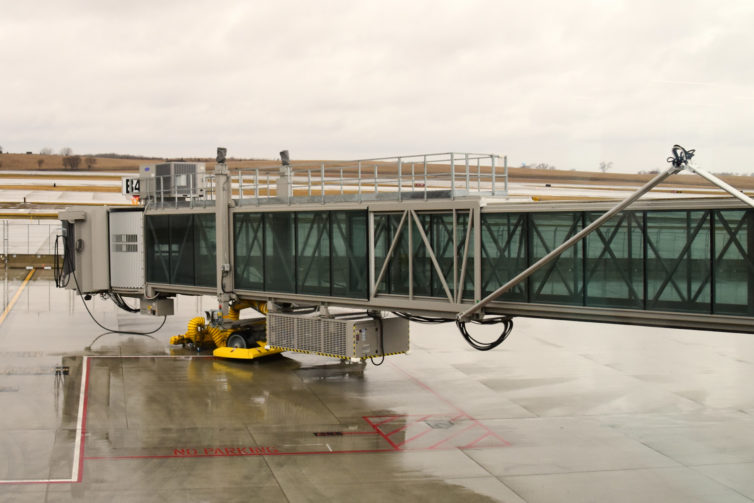 Glass jet bridges are the best. AvGeeks on social media are passionate about this. And when Wichita and Amarillo adopted them with their own new terminals they basked in collective praise of travelers. While MCI will not be the first U.S. airport to adopt the trend from abroad, they are proud to be the largest airport in the U.S. to do so. While it will still be pitch black tomorrow morning at 4:45 AM when we board our inaugural flight, we sure look forward to continuing the sensory tour vs boarding via dark stinky drab tunnels.
Soon the new terminal will feature a courtyard complete with outdoor seating and a fountain. The seating will be on sculptures made to look like the original three horseshoe-shaped terminals. A very nice touch. We are very much looking forward to visiting once the project has completed and the weather has warmed up.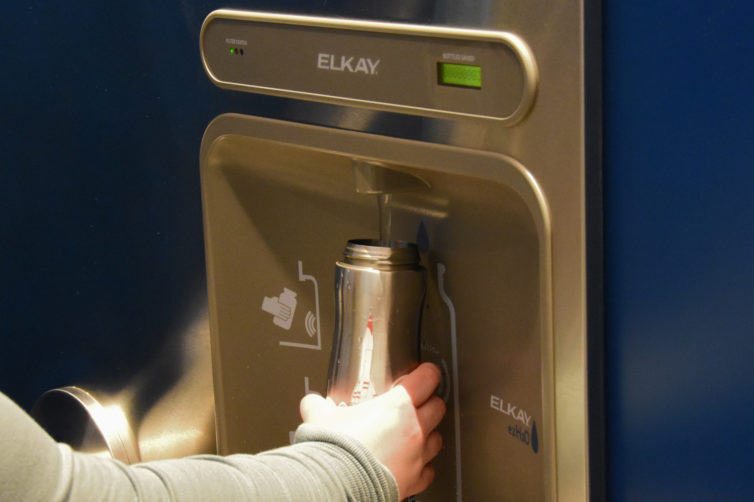 You know what's underrated? Stations that provide cold clean water. While these weren't the fountains we had hoped to find in the new KC airport terminal, they sure were a welcomed sight.
Modern baggage handling!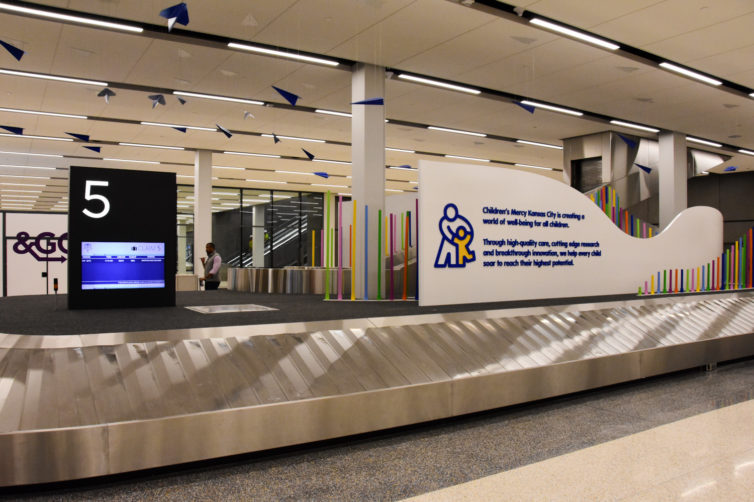 I rarely check a bag. But when I do, it's always a pain to pick it up at the current terminals. The existing areas are tiny, folks crowd around them, and bags quickly clog the belts. We were ecstatic to see such large baggage claim areas. And five of them to-boot.
Bonus points for the low-key advertising for our local non-profit children's hospital system which does incredible work. Every day the staff of Children's Mercy work tirelessly to save lives – they saved my son's, for which I'll be forever grateful. Excellent to see this KC-area shining star incorporated into the new terminal.
Conclusion
The new KC airport terminal is awesome. We were so excited to have the opportunity to test the terminal out for a day ahead of launch and can't wait to visit again tomorrow for the first flight out. Finally, a world-class airport and a first impression worthy of our amazing metropolitan area. Well done to all who had a hand in the project.