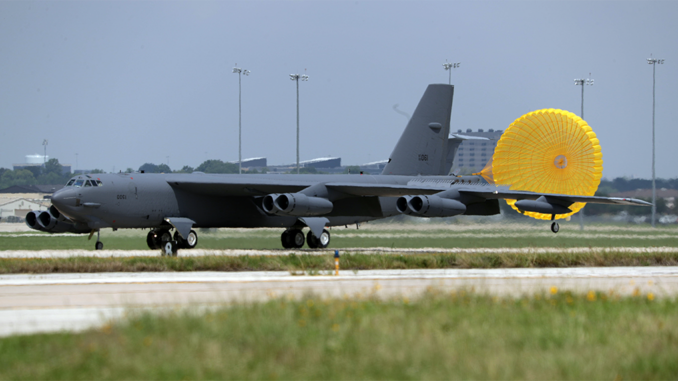 The B-52 Radar Modernization Program has just started.
With the landing at a Boeing Co., facility in San Antonio, of a B-52 Stratofortress bomber assigned to the 307th Bomb Wing from Barksdale Air Force Base, Louisiana, the Air Force's B-52 Radar Modernization Program has officially started: the aircraft will in fact receive the Active Electronically Scanned Array system (AESA).
"The arrival of this aircraft is a big deal, and signals the beginning of a key part of our effort to modernize the B-52 fleet," said Col. Louis Ruscetta, Senior Materiel Leader for the Air Force Life Cycle Management Center's B-52 Program Office, which is leading the Radar Modernization Program, and overall effort to modernize the bomber, in a public release. "AESA will replace 1960s radar technology, and greatly increase the navigation and targeting capabilities of the B-52 in higher threat areas."
As part of the upgrades the B-52 fleet will receive, there is also the new radar, a modified valiant of the F/A-18EF Super Hornet's APG-79 AESA radar, that will give the BUFF (Big Ugly Fat Fellow) greatly improved radar range and situational awareness, while taking less space then the older mechanically scanned radar, thus leaving room for electronic warfare functions.
In addition to increased situational awareness and navigation and targeting ability, AESA is designed to be adaptable, so that new capabilities to address future threats, can be added via software modifications.
Installation of AESA, that sees the involvement of Boeing (as the OEM – original equipment manufacturer) and Raytheon, is one of the largest upgrades to the B-52 in the history of the fleet: the effort will cost approximately $2.8 billion, with IOC (initial operational capability) expected in 2027.
However, the new radar will not be the only upgrade the strategic bomber fleet will receive to remain operational through at least 2050. New Rolls Royce F130 engines were selected in 2021 to replace the bomber's Pratt & Whitney TF33-PW-103s, used on the Stratofortress fleet since the 1960s. Rolls-Royce has launched F130 engine testing at the company's outdoor test facility at the NASA Stennis Space Center in Mississippi, U.S. The Air Force plans to finalize integration activities and deliver the first lot of B-52 modified aircraft in the 2026-2027 timeframe, with initial operational capability expected in 2030.
The modified bomber, designated B-52J. Externally, the B-52 will also have a cleaner look, as the blisters that currently house the AN/ASQ-151 Electro-Optical Viewing System (EVS) will be removed: the EVS was used to help crews fly safely at very low altitudes, but it was largely supplanted by the Litening and Sniper targeting pods installed on pylons under the bomber's left wing.