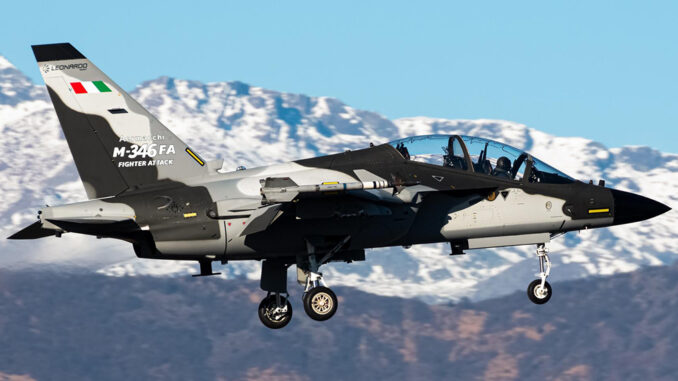 Nigeria officially confirms the acquisition of 24 M-346FA jets.
Nigeria's interest in the Leonardo M-346FA (Fighter Attack) is not a secret: while never officially confirmed, the news that the Sub Saharan African nation was to become the new customer of the "light combat" version of the M-346 advanced jet trainer, has been around for several years.
In the end, the official confirmation that the Nigerian Air Force (NAF) will eventually receive two dozen M-346FA aircraft to equip two full squadrons came from the Presidency of Nigeria, that shared an infographic on social media with details about the current and future ORBAT (Order of Battle) and main procurement programs of the Nigerian armed forces.
ARMED FORCES#SecuringNigeria#PMBLegacy pic.twitter.com/aOIFu2VFu4

— Presidency Nigeria (@NGRPresident) May 27, 2023
The multi-role version of the successful M-346 was first unveiled at Farnborough International Air Show in 2016. The aircraft integrates a wide range of systems and sensors for tactical support and air defense: including a tactical data link, a self-defense system, reconnaissance and targeting sensors and a large array of weapons. It can be used for close air support missions, even in urban areas, battlespace air interdiction for national defence and tactical reconnaissance.
The aircraft is equipped with multi-mode Grifo-M-346 mechanical scanning radar, developed by Leonardo and optimised for the M-346FA. The M-346FA is also equipped with a complete passive defence system (DASS – Defensive Aids Sub-System), integrated communication system and tactical datalink (TDL). The M-346FA can integrate different types of armaments and external loads, including air-to-air and air-to-surface munitions (such as IR, radar and/or laser/GPS- guided munitions), gun pods, and target reconnaissance and designation pods, integrated with Helmet Mounted Displays (HMD). Among the weapons integrated or tested for integration there are the IRIS-T and AIM-9 air-to-air missiles, a 12.7 mm gun pod, GBU-12 and GBU-49 laser-guided bombs, JDAMs (Joint Direct Attack Munitions), Brimstone and Marte ER, Small Diameter Bombs and RecceLite reconnaissance pod.
#ICYMI we presented #M346FA, new fighter attack version of #M346 to meet requirements of air forces #PAS17 #Leonardo https://t.co/MZCXxPbHPP pic.twitter.com/f7GfH95zgk

— Leonardo (@Leonardo_live) June 21, 2017
The M-346FA is already in service with the Turkmen Air Force. In 2020, the Italian Senate disclosed that Turkmenistan had placed an order for four M-346FA and two M-346FT (Fighter Trainer) aircraft. In May 2021, we posted images of one of the jets in Turkmen color scheme with no national markings or identification performing test flights in Italy ahead of delivery. Video footage released by Turkmenistan's state media in August 2021, showed two M-346FA flying with four short-range air-to-air missiles along with external fuel tanks, sporting numbers "01" and "02".