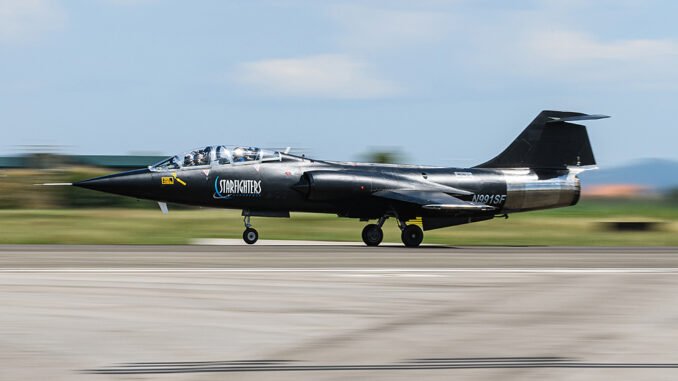 The TF-104 of Starfighters Aerospace was ferried to Grosseto Air Base to take part in the airshow for the 100th anniversary of the Italian Air Force this week.
After almost 20 years since its retirement in 2004, an F-104 Starfighter flew again today in Italy at Grosseto Air Base on Jun. 12, 2023. The aircraft, which now belongs to Starfighters Aerospace and sports the FAA serial N991SF, is the former Italian Air Force TF-104G-M that operated for more than 30 years as MM54258 with the 20° Gruppo (Squadron), the Italian F-104 OCU (Operational Conversion Unit) based at Grosseto.
The jet, dubbed "Black Beauty" because of its stunning black paintjob, is one of the seven F-104s owned by the Starfighters Aerospace, of which four are currently airworthy, and based at NASA's Kennedy Space Center to be used for research and development flights. Its return in Italy was long awaited since its participation to the airshow for the 100th anniversary of the Italian Air Force was first announced.
The airshow, which will run this week on June 17 and 18, will retrace the history of the Aeronautica Militare, with many historic aircraft involved in static and flight displays. Among these are the TF-104 "Black Beauty" and Caproni Ca.3, the world's only airworthy WWI bomber replica, which returned to flight last week.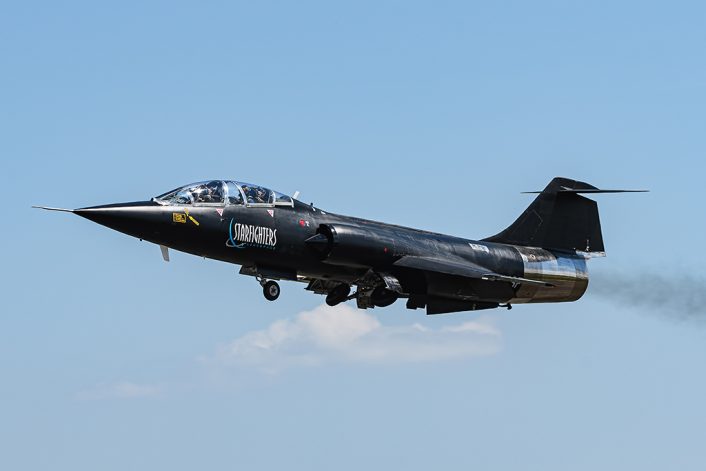 The TF-104 was disassembled and transported aboard a ItAF C-130J to Grosseto, where it arrived on June 3. Works immediately started to reassemble the aircraft, which is currently in a clean configuration without wingtip tanks, and a first engine run was performed on June 10. This morning, at about 10:40 local time, the TF-104 flew again for the first time on Italian soil, with lots of aviation enthusiasts in the fields near the air base ready waiting for the historic event.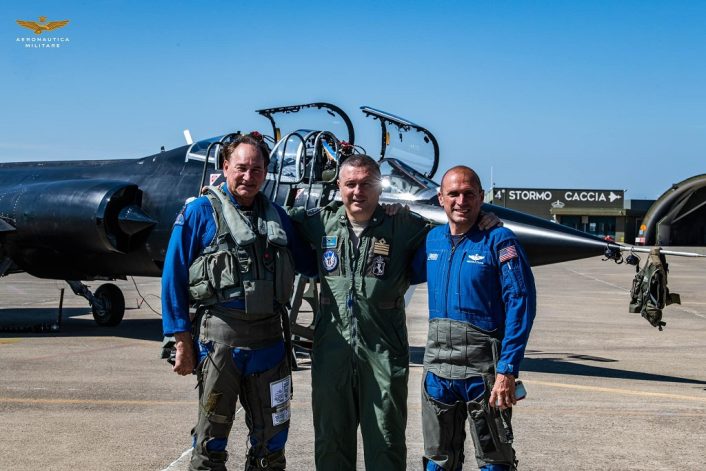 The aircraft, piloted by Piercarlo "Capone" Ciacchi, Director of Flight Operations at Starfighters Aerospace, and Rick Svetkoff, President and CEO of Starfighters Aerospace, flew again this afternoon, with the 4° Stormo hosting photographers and enthusiasts for the occasion. The importance of the event for the Italian aviation community is such that the Aeronautica Militare (Italian Air Force) and the 4° Stormo (Wing) hosted a spotter day in the afternoon, during which many photographers could take some pictures of the Starfighter.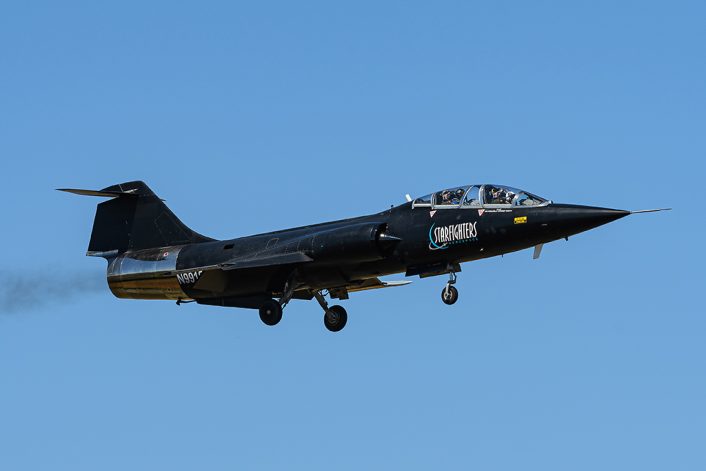 But the surprises are not over yet, as another historic Italian aircraft is set to fly again for the first time since its retirement in 1992: the Fiat G-91R, restored by Renzo Catellani and his team. Catellani is not new at this, as he bought and brought to airworthy status multiple Italian Air Force aircraft. The first one was the MB-326E, the "father" of the current MB-339, which returned to flight in 2012, and the prototype of its armed single seat variant, the MB-326K, which returned to flight in 2019.