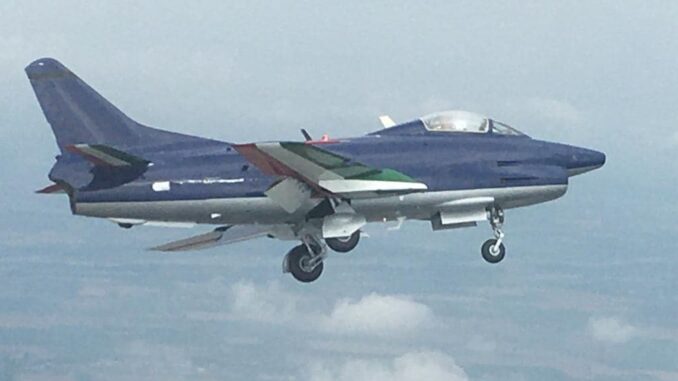 More than 30 years after the type's last flight, the restored G-91 took back to the skies ahead of the airshow for the 100th anniversary of the Aeronautica Militare.
Another piece of the Italian Air Force's history, the Fiat G-91R aircraft, flew again today for the first time since it was retired in 1991. The aircraft, restored by Renzo Catellani's Volafenice team and the Italian Air Force, flew in the late morning today from Piacenza Air Base at the commands of retired General Maurizio Lodovisi, former test pilot with more than 6,000 flight hours under his belt, and with a MB-326E acting as chase plane.
The aircraft, type only airworthy airframe, is the former G-91R/1A MM (Matricola Militare/ Military Serial) 6305 (c/n 169), which now sports the civilian registration I-AMIC. The airframe was acquired in 2009 by Catellani, with the restoration started in 2021 at Piacenza Air Base, the former home of the Italian Tornado ECR fleet. Last year, the G-91's Bristol Siddeley Orpheus engine was started up again, thanks to a custom compressed air system which replaced the old startup cartridges.

The aircraft, which was assigned to the 2nd Wing and at the time of the retirement sported the unit number 2-57, gave up its old NATO camouflage and has now been painted in the colors of the Frecce Tricolori, with the same livery the aerobatic team used on the G-91PAN until 1982, when it was replaced by the newer MB-399PAN.
The G-91 is an important part of the history of the Aeronautica Militare, with a 35-year service life and 756 aircraft built. The aircraft, the last complexly designed and built by Fiat Aviazione, served also abroad in Portugal and Germany and was even evaluated by the U.S. Army and U.S. Air Force for a later cancelled light attack aircraft program.
The restored G-91 will now take part, together with many historic aircraft, to the airshow for the 100th anniversary of the Aeronautica Militare this week at Pratica di Mare air base.